𝐃𝐎𝐫𝐒𝐔 𝐏𝐫𝐨𝐠𝐫𝐚𝐦𝐬 𝐔𝐧𝐝𝐞𝐫𝐠𝐨 𝐀𝐀𝐂𝐂𝐔𝐏 𝐀𝐜𝐜𝐫𝐞𝐝𝐢𝐭𝐚𝐭𝐢𝐨𝐧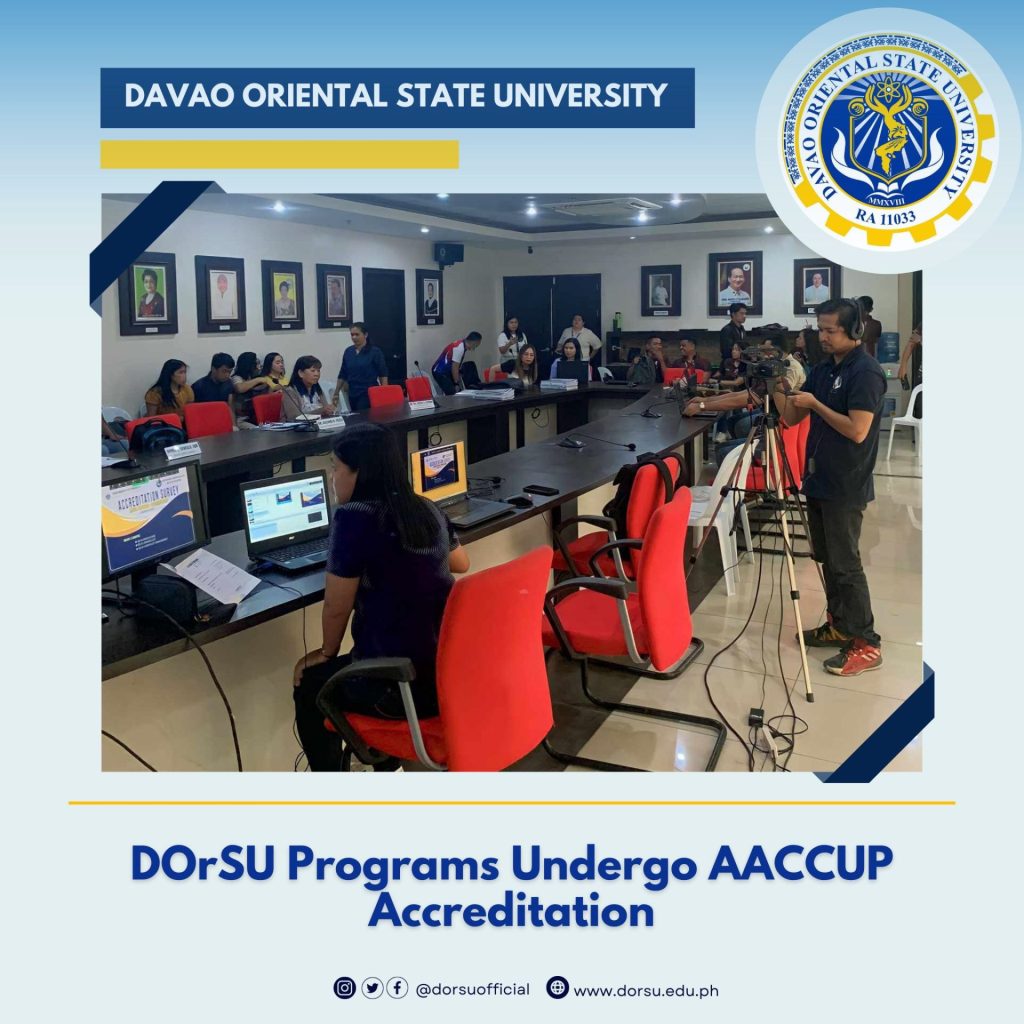 Davao Oriental State University (DOrSU) takes a significant step forward as the Accrediting Agency of Chartered Colleges and Universities in the Philippines (AACCUP) officially commences its accreditation survey of DOrSU programs. The survey opened today, November 8, and will continue until November 10.
Led by Dr. Rodolfo M. Burac Jr., a team of AACCUP accreditors will rigorously evaluate several programs at DOrSU. These programs include Bachelor of Science in Agriculture, Bachelor of Science in Criminology, Hospitality Management, and Library Services.
Accreditation is not just a formality but a vital process that ensures the quality and excellence of educational programs. It aims to guarantee that DOrSU meets specific standards and provides the best possible education for its students. The accreditation process will assess various criteria and areas that are essential for academic quality.
DOrSU President Dr. Roy G. Ponce expressed the importance of this accreditation process in his statement. He said, "Accreditation is a humble recognition that there's always room for improvement. It's our pledge to our students, the people in our province, and beyond, that we are committed to providing nothing but the best in education."
As DOrSU's programs go through this accreditation, students, faculty, and the community can look forward to an even higher quality of education and academic services. The university is dedicated to continuous improvement and to meeting the highest standards set by AACCUP.
The results of this accreditation will have a lasting impact on the university and its students, ensuring that DOrSU maintains its commitment to excellence in education. (DOrSU PIO)