DOrSU, CCATI sign MOA for Tech-voc Training, Nat'l Certification Activities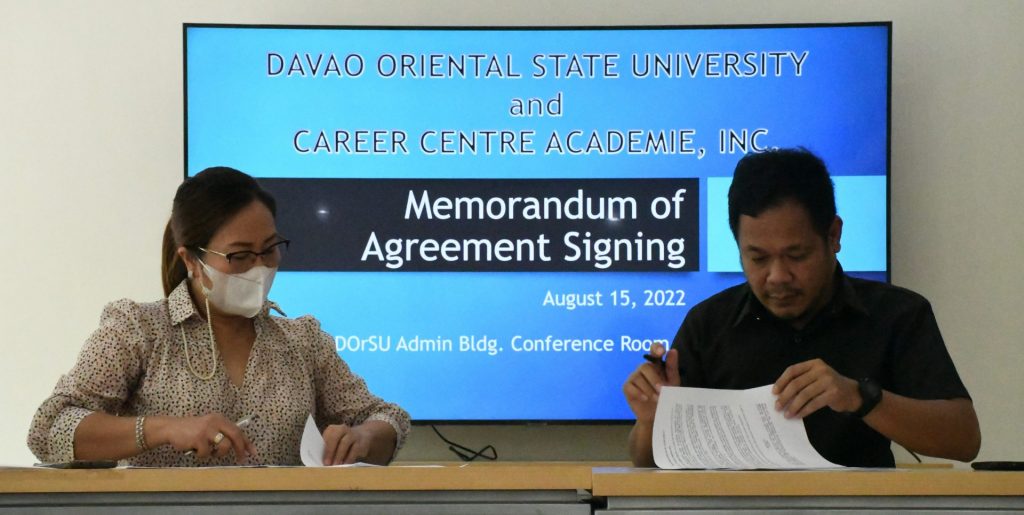 DOrSU President Roy G. Ponce and Career Centre Academie and Technological Institute, Inc. (CCATI)
President Ms. Mary Jane P. Trinidad signed a Memorandum of Agreement covering technical vocational
training and national certification activities for the Bachelor of Technology and Livelihood Education (BTLEd) program.

During the MOA signing on August 15, 2022, in Conference Room 2 of the University, President Ponce committed to contributing technical expertise and human resources in technological programs, particularly in industrial arts and home economics competencies.
Additionally, in line with the tech-voc programs of CCATI, the DOrSU-IETT program shall design technology programs in Industrial Arts and Home Economic competencies by the industry standards.
As agreed, DOrSU and CCATI will collaborate to expand tech-voc training and certification initiatives to ensure that knowledgeable and skilled graduates have good work ethics and personalities ready for the workplace.