DOST-PCIEERD Grants 5 Million Pesos to Fuel DOrSU's UResCom Natural Products Dev't Lab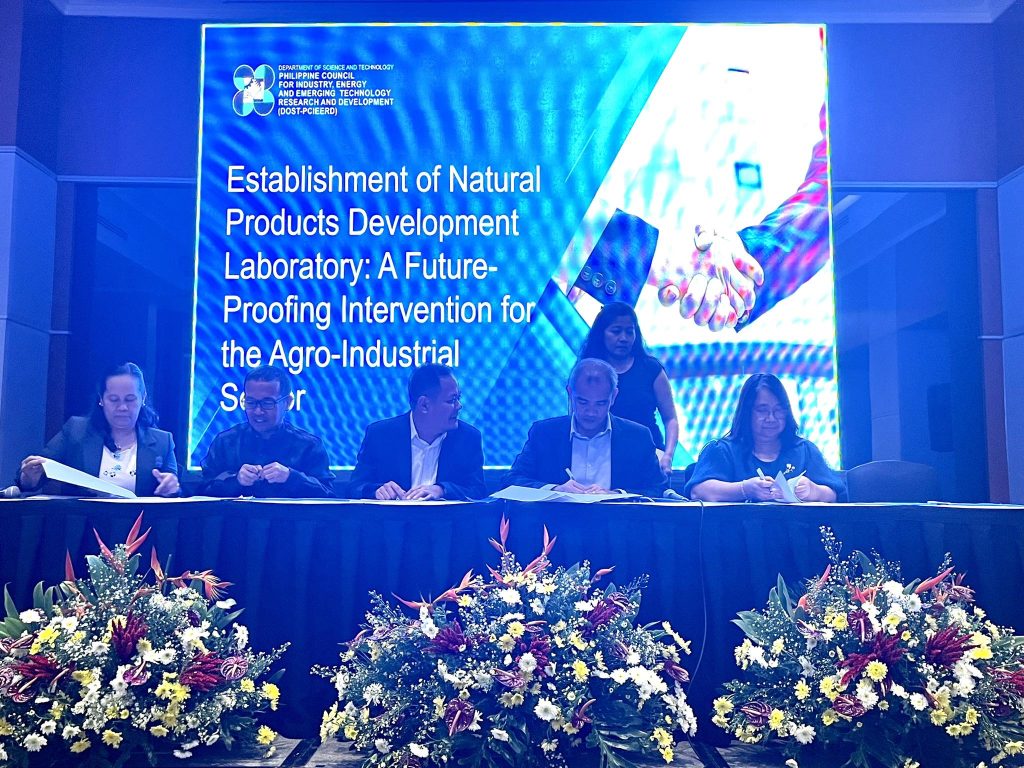 Quezon City, October 5, 2023 – The Department of Science and Technology, Philippine Council for Industry, Energy, and Emerging Technology Research and Development (DOST-PCIEERD), in a significant move toward promoting research and sustainable development, has pledged a substantial fund of 5 million pesos to Davao Oriental State University (DOrSU) for its UResCom (University Research Complex) Natural Products Development Laboratory project.
The announcement came during the Grand Ceremonial Memorandum of Agreement (MOA) Signing for Approved 2023 Projects, held on October 5, 2023, at the Richmonde Hotel in Eastwood, Quezon City, attended by DOrSU President Dr. Roy G. Ponce and Project Leader Dr. Wilanfranco C. Tayone.
At the heart of the project lies the exploration of the untapped potential of Almaciga (Agathis philippinensis) scents and their valorization through essential oil extraction. The direct beneficiaries of this initiative are the members of LATAGG (Lumad Almaciga Tappers Association of Gov. Generoso), a community closely intertwined with the Almaciga resin industry.
UResCom, having recently been inaugurated, aims to leverage this state-of-the-art research facility for comprehensive research and scholarly activities. UResCom stands as a hub for faculty researchers, providing an avenue for basic research, collaborative endeavors, training, knowledge dissemination, and creative pursuits.
The DOST-PCIEERD funding will serve as a catalyst for operationalizing UResCom through extensive investment in human capital development and the enhancement of laboratory facilities. The project entails the acquisition of cutting-edge equipment, fixtures, and laboratory furniture.
Under the capable leadership of Project Leader Wilanfranco C. Tayone, RCh, PhD, and supported by a dynamic team of experts including Janeth C. Tayone, RCh, PhD, Roselyn V. Regino, RPh, PhD, Mr. Geralph Sam P. Villarubia, and Ms. Hayma Usman, the project aspires to establish an economically viable and sustainable Almaciga resin industry through the value addition of resin.
By providing alternative income avenues for LATAGG, this initiative is set to empower the Manobo-Mandaya tappers, offering them the opportunity to augment their take-home pay and association income. It holds the promise of not only economic growth but also community development and prosperity.
The DOST-PCIEERD's generous funding signifies a shared commitment to advancing research, innovation, and sustainable development. This partnership between academia and government has the potential to create a lasting impact on the region's economy, empowering local communities and driving progress for the nation as a whole. The allocation of 5 million pesos is not merely an investment in a laboratory but an investment in the future of the Philippines.