DOrSU President Calls for Regenerative Futures to Address Pressing Social and Environmental Challenges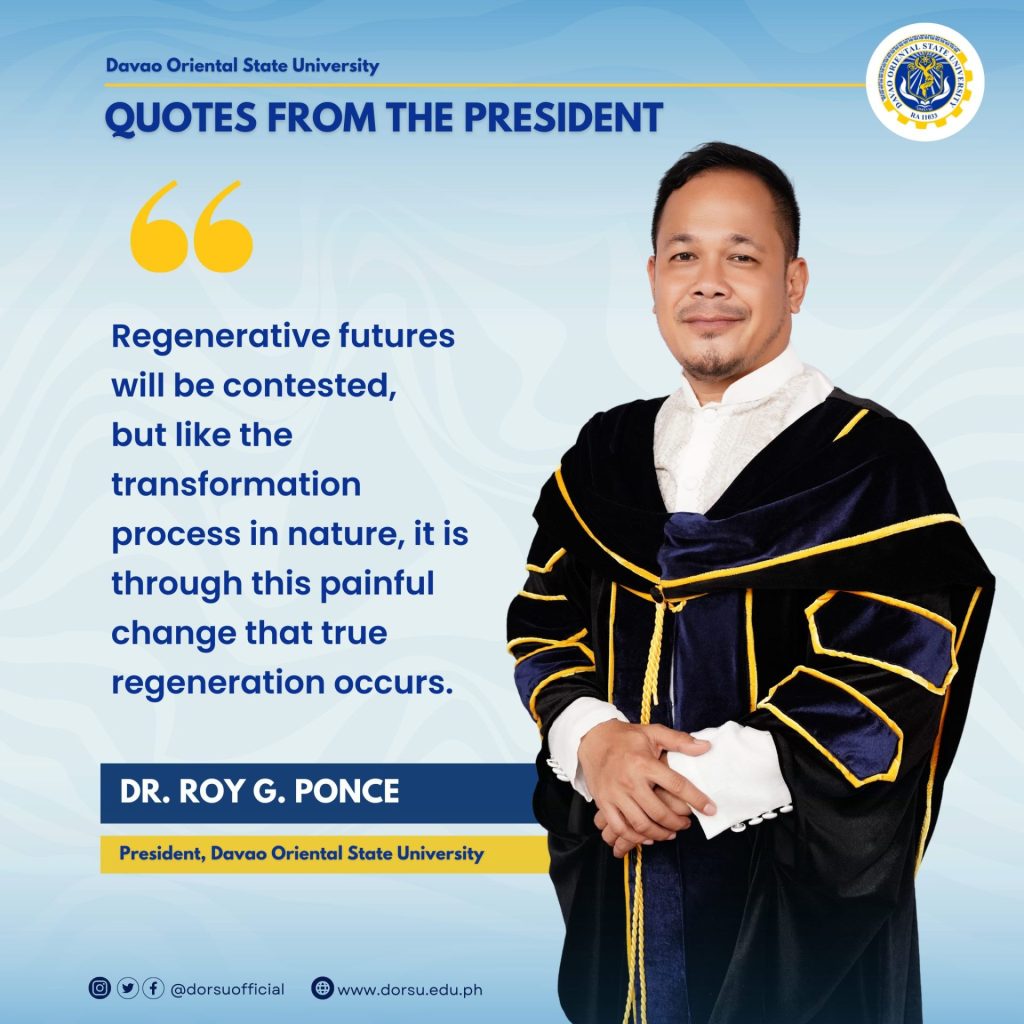 In a keynote address delivered during MINA: A Forum on the Future of Mining in Davao Oriental, the first day of the 3-day 2023 Public Scientific Congress, DOrSU President, Dr. Roy G. Ponce, urged the academic community to embrace "Regenerative Futures" as a transformative approach to tackle the pressing social and environmental challenges faced by the province.
President Ponce articulated the need for proactive and sustainable solutions in the face of frequent power interruptions, plastic waste, environmental degradation, encroachment of protected areas, high poverty incidence, illegal drugs, youth delinquency or indifference, human trafficking, and modern slavery, HIV/AIDS, epidemics, and pandemics, low agricultural productivity, and toxins in the environment. He emphasized that these challenges demand immediate attention and collective action.
The concept of "Regenerative Futures" put forth by President Ponce centers around envisioning and shaping a desired future that is enriched and future-proof. It goes beyond the traditional notions of sustainability by encouraging an adaptive and growth mindset, promoting development evaluation, and embracing natural systems models. By adopting this approach, DOrSU aims to strike a harmonious balance between development and environmental conservation.
During the forum, President Ponce engaged stakeholders from the mining industry in constructive conversations about redefining the future of mining in the region. He emphasized that while mining plays a significant role in infrastructure and technological development, it must not come at the cost of devastating biodiversity and ecosystems. The notion of "regenerative mining" emerged from these discussions, with a focus on implementing restoration efforts and utilizing new technologies that support forest healing and the natural regeneration of plant and animal species.
DOrSU's geographical location, endowed with intact mountain and coastal ecosystems, and its expertise in biology, environmental science, biodiversity, and conservation, make it uniquely positioned to champion the concept of "Regenerative Futures" in the academic landscape. The university aims to infuse this guiding philosophy across all disciplines, from precision and regenerative principles in agriculture to green design and material science in engineering.
President Ponce highlighted the critical roles that academic institutions should play as Regenerative Futurists. The university must serve as a driver of critical, creative, and anticipatory thinking, test, and pilot regenerative ideas, and initiate communities of practice that engage various expertise and fields to collaboratively address social issues.
Under President Ponce's leadership, DOrSU has already garnered partners who share the same passion and goals. The university is set to become a trailblazer in coral reef restoration using natural and locally sourced clay reef-structure Legos, a collaboration with the Swiss organization, RRReefs. Additionally, partnerships with the Bai Ani Foundation and the First Congressional District of Davao Oriental will focus on sustainable agriculture, green carbon practices, and establishing an Abaca Research Center.
The call for "Regenerative Futures" has ignited a sense of purpose and shared identity among DOrSU's academic community. With President Ponce's vision, the university is poised to lead the way in creating alternative futures that address critical social and environmental challenges, paving the path for a sustainable and prosperous future for Davao Oriental and beyond. (DOrSU PIO)