𝗗𝗢𝗿𝗦𝗨 𝗦𝘄𝗲𝗲𝗽𝘀 𝗩𝗶𝗰𝘁𝗼𝗿𝘆 𝗮𝘁 𝟮𝟬𝟮𝟯 𝗦𝗠𝗔𝗔𝗥𝗥𝗗𝗘𝗖 𝗥𝗲𝗴𝗶𝗼𝗻𝗮𝗹 𝗥𝗲𝘀𝗲𝗮𝗿𝗰𝗵 𝗦𝘆𝗺𝗽𝗼𝘀𝗶𝘂𝗺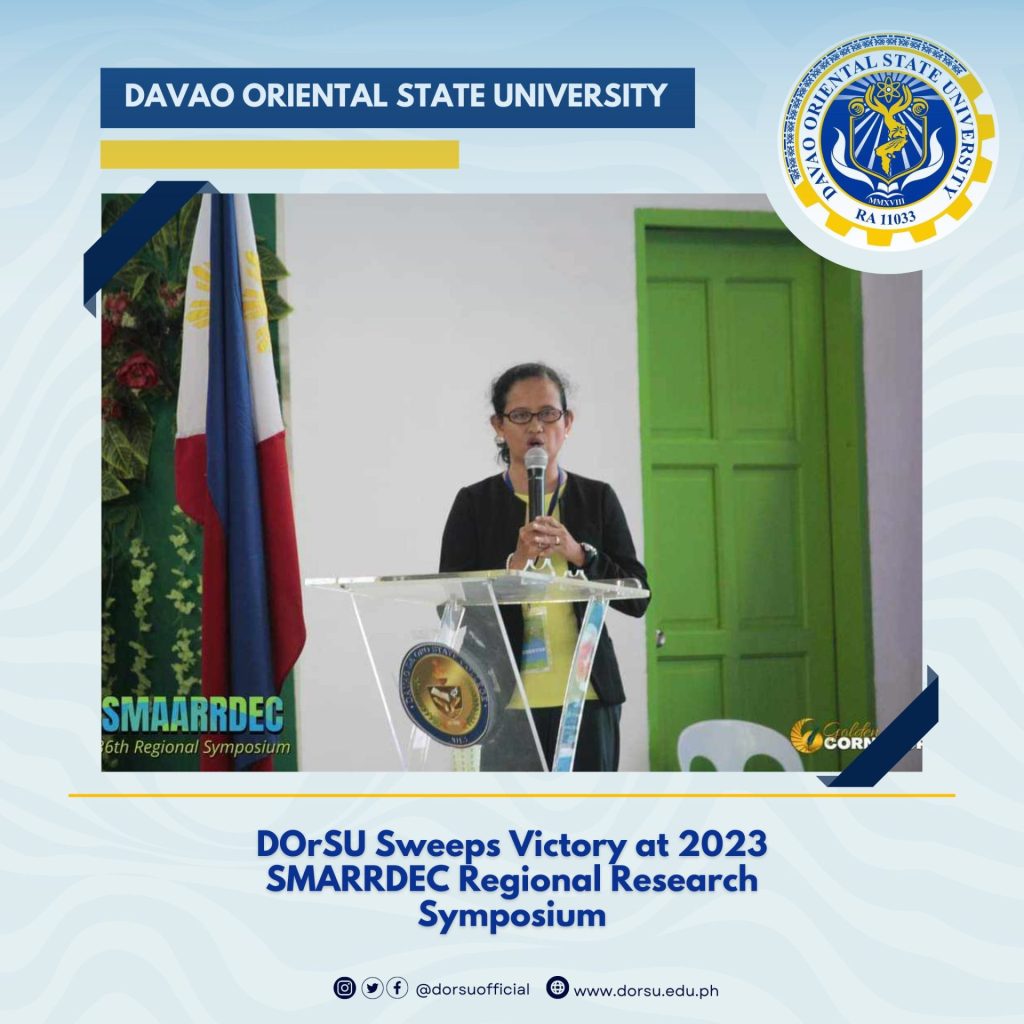 Davao Oriental State University (DOrSU) emerged winner in three categories – Research, Policy Brief, and Poster during the 36th Regional Symposium on Research Development and Extension (RDE) Highlights, organized by the Southern Mindanao Agriculture, Aquatic, and Natural Resources Research and Development Consortium (SMAARRDEC) and hosted by the Davao de Oro State College (DDOSC) on August 15.
Under the Research Category, Dr. Emily S. Antonio and her co-authors garnered the prestigious 1st Place Best Paper award for their study titled "Stable Isotopic Evidence on IMTA Biofiltration to Mitigate Eutrophication in Pujada Bay, Mariculture Park." Her findings shed light on using Integrated Multi-Trophic Aquaculture (IMTA) biofiltration effectively to address eutrophication in Pujada Bay. This study is made possible with generous funding support from the Department of Science and Technology (DOST).
In addition, Dr. Analyn A. Cabras secured the 3rd Place Best Paper award for her work titled "Twelve New Species and a New Combination of 𝑀𝑒𝑡𝑎𝑝𝑜𝑐𝑦𝑟𝑡𝑢𝑠 Heller, 1912 (Coleoptera, Curculionidae, Entiminae, Pachyrhynchini) from Mindanao Island, Philippines." Dr. Cabras' study presents a significant contribution to the field of entomology with the discovery of new species across Mindanao.
In the Policy Brief Category, Ms. Amy G. Ponce claimed the 1st Place award for her policy paper "Addressing the Threats of Marine Megafauna in SOS Marine Wildlife." This presents a comprehensive policy recommendation to address marine megafauna's challenges in marine wildlife conservation efforts, especially in the coastal province of Davao Oriental.
The university's commitment to environmental conservation was further exemplified by Mr. Nemore E. Lahoy and his co-authors' remarkable achievement in the Poster Category. The poster titled "Evaluation of Marine Litter Loads of Selected Coastal Areas in Davao Oriental: An Initial Step for Mitigating Marine Plastic Pollution in Davao Region" was honored with the 1st Best Poster Award. The results emphasize the critical issue of marine plastic pollution and provide an initial roadmap for mitigating its impact in the Davao Region. This is based on a project funded by the Commission on Higher Education (CHED).
This feat is made possible with the unwavering support of DOrSU President Dr. Roy G. Ponce and through the initiatives of the Research, Innovation, and Extension (RIE) Division, under the leadership of RIE Vice President Dr. Misael B. Clapano, along with Dr. Mary Fil M. Bauyot, Director for Extension, Mr. Venson B. Sarita, Director for Innovation, and Mr. Jhonnel P. Villegas, Director for Research. (DOrSU PIO)