'Forge a lasting legacy for your future': Former Mayor Yu at DOrSU-SIC graduation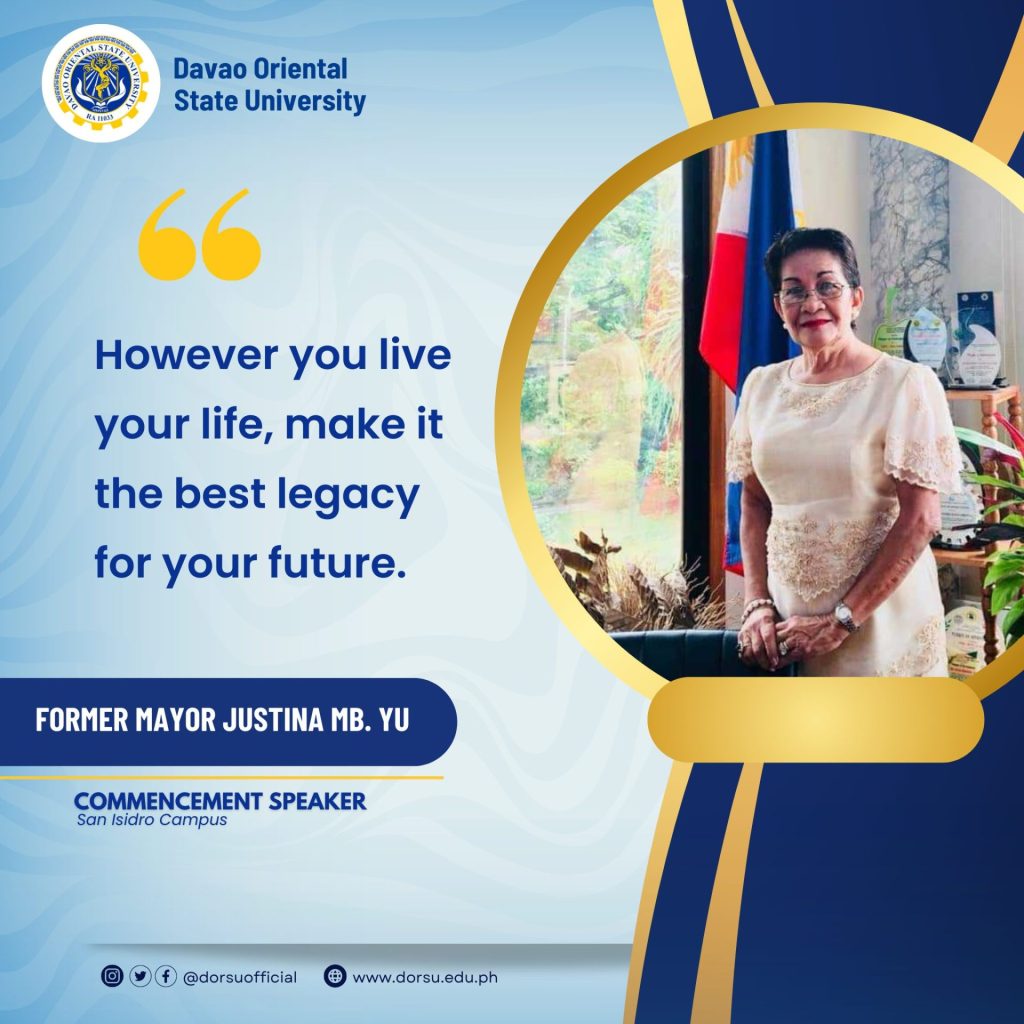 Former Mayor of San Isidro, Justina MB. Yu, was this year's commencement speaker for DOrSU-San Isidro Campus graduation.
Addressing 148 graduates, the former Mayor stressed the significance of life beyond the realm of work. "Life is not just about work when you go out into the real and outside worlds," she stated. She encouraged the young graduates to understand that work is not solely for personal satisfaction but also an avenue for them to develop their best interests.
One of the key highlights of the speech was the message about leaving a profound legacy for the future. "However you live your life, make it the best legacy for your future," the former Mayor asserted, urging the graduates to be mindful of their actions and decisions as they venture into the world.
She painted life as an intriguing tapestry of events, encompassing relationships, successes, financial lives, lifestyles, failures, and careers. She emphasized the importance of cherishing the journey: "Life is a journey towards countless stages, roads, and bridges with people you will welcome into your lives."
Taking a moment to acknowledge the support system behind each graduate, the former Mayor expressed gratitude to the parents and guardians present, recognizing the sacrifices they made in preparing their children for the challenges of the future.
The crux of her speech lay in the notion that life is the ultimate teacher, with lessons beginning at birth and continuing until we leave this world. "For life is a teacher; our life lessons begin the day we are born, and our life's lessons end the day we pass from this world to the next," she remarked.
She concluded with a reminder that life is not about what one receives but how they utilize the resources at their disposal during their time on earth. "Life is not what you get, but what you do with what you have while here on earth," she remarked.
The atmosphere in the Municipal Gym resonated with hope as the graduates embraced their diplomas, symbolizing the culmination of years of hard work and dedication. (DOrSU PIO)