𝐃𝐎𝐫𝐒𝐔, 𝐃𝐞𝐩𝐄𝐝 𝐃𝐚𝐯𝐚𝐨 𝐎𝐫𝐢𝐞𝐧𝐭𝐚𝐥 𝐈𝐧𝐤 𝐃𝐞𝐚𝐥 𝐭𝐨 𝐄𝐧𝐡𝐚𝐧𝐜𝐞 𝐑𝐞𝐚𝐝𝐢𝐧𝐠 𝐒𝐤𝐢𝐥𝐥𝐬 𝐢𝐧 𝐋𝐨𝐜𝐚𝐥 𝐒𝐜𝐡𝐨𝐨𝐥𝐬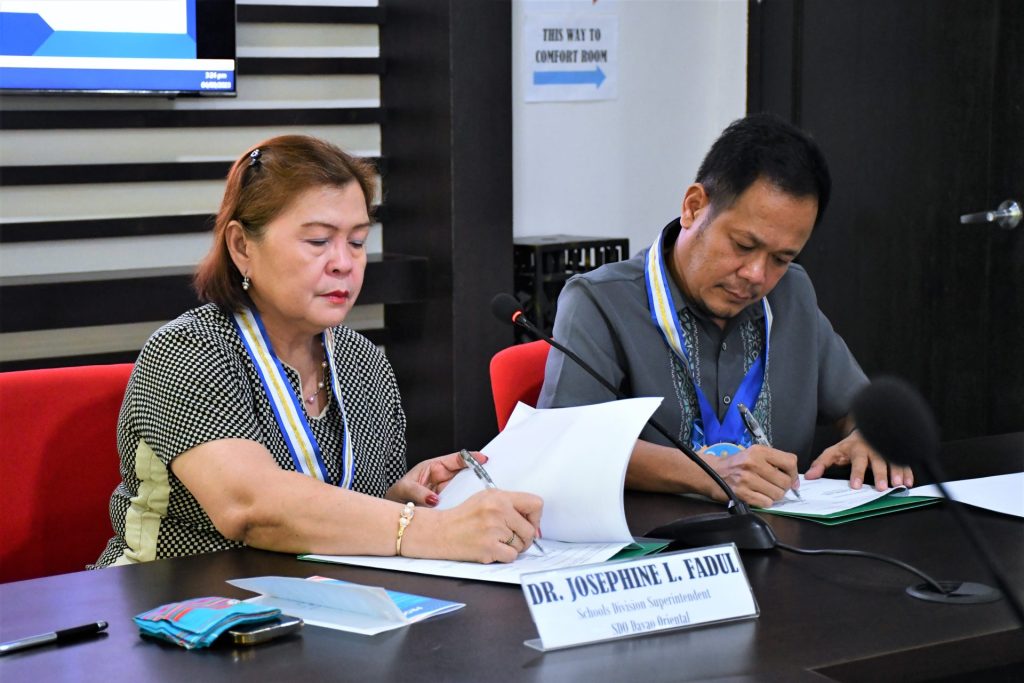 Mati City, Davao Oriental, September 4, 2023 – In a step toward addressing reading difficulties among students in Davao Oriental, the Department of Education Schools Division of Davao Oriental (DepEd Davao Oriental) and the Davao Oriental State University (DOrSU) have entered into a Memorandum of Agreement (MOA).
The MOA, signed on September 4, 2023, formalizes the partnership under the banner of the "Brigada Pagbasa" campaign initiated by the Department of Education, which seeks to enhance literacy and reading skills among Filipino children. This campaign aligns with DepEd Davao Oriental's "Project Beginning Reading Intervention to Decrease Gaps in Education" (B.R.I.D.G.E.), aimed at improving elementary-level reading competencies.
DOrSU, under this collaboration, will produce twelve interactive videos covering the 12 fundamental competencies of Beginning Reading. These videos will serve as instructional materials for teachers and community stakeholders. Additionally, DOrSU's Faculty of Teacher Education will assist in creating instructional materials based on the specific needs of DepEd Davao Oriental.
DepEd Davao Oriental, on the other hand, will provide training, technology, and resources to DOrSU students involved in video production. They will also oversee the quality assurance process for the produced video materials. Furthermore, DepEd Davao Oriental will distribute the videos to schools within the division, orienting schools and partners on their use as part of the Brigada Pagbasa implementation.
The agreement takes effect immediately and will remain in effect throughout the project duration, scheduled from September 2023 to April 2024. Both parties have affirmed their capacity and authorization to enter into this agreement.
This partnership between DepEd Davao Oriental and DOrSU, with the full support of DOrSU President Dr. Roy G. Ponce, holds the promise of significantly improving reading skills among local students, marking a step toward a more literate future for the youth of Davao Oriental. (DOrSU PIO)