𝗡𝗲𝘄 𝗜𝗻𝘀𝘁𝗿𝘂𝗰𝘁𝗼𝗿𝘀 𝗧𝗮𝗸𝗲 𝗢𝗮𝘁𝗵 𝗼𝗳 𝗢𝗳𝗳𝗶𝗰𝗲 𝗮𝘁 𝗗𝗢𝗿𝗦𝗨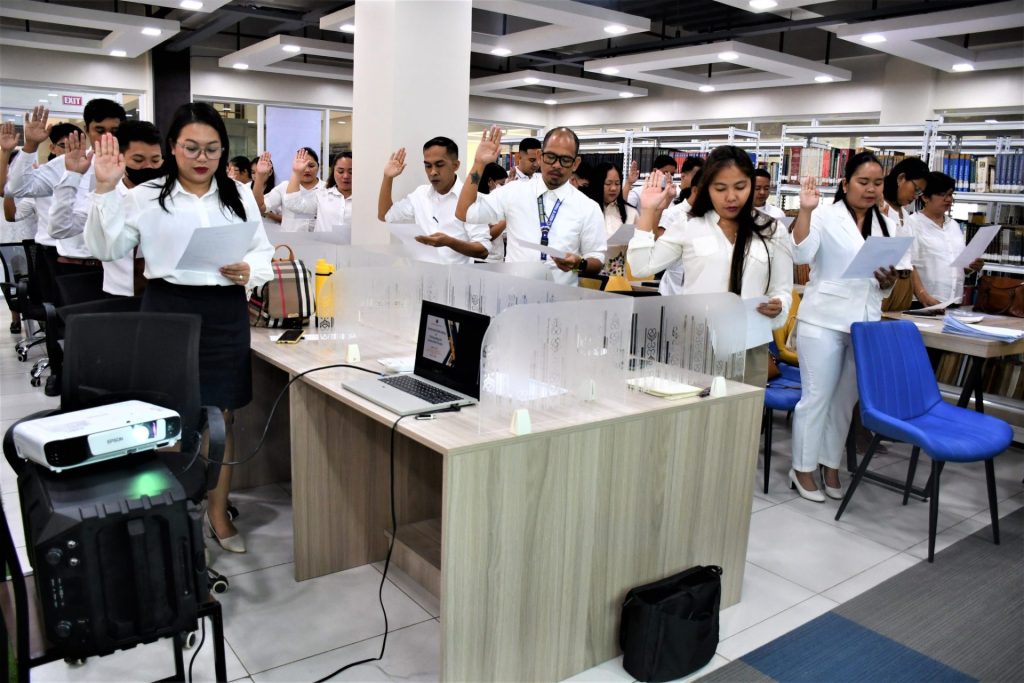 Newly hired instructors have taken the oath of office today, August 11. The ceremony was presided over by DOrSU President Dr. Roy G. Ponce.
In his message, President Ponce urged the newly appointed instructors to seize the career prospects offered by DOrSU and advised them to integrate DOrSU's niche into their respective fields of study.
"In agriculture, explore the realm of precise agriculture; in engineering, consider retrofitting buildings for optimal learning environments; and in education, embrace regenerative teaching methods," President Ponce stated.
He also encouraged the new employees to seek mentors, emphasizing that this could greatly aid their development. He emphasized, "You are now part of DOrSU's identity and integrity. Protect it by upholding its values and ethos."
In his closing remarks, Dr. Ponce underscored the pivotal role of faculty in the classroom and urged them to "be prepared."
"Enter the classroom ready, as you hold the key to shaping the future through education," President Ponce emphasized.
For these new faculty members, the Ceremonial Oath Taking and On-boarding event served as a ceremonial welcome to the DOrSU community, marking the beginning of a journey distinguished by innovation, academic excellence, and a commitment to supporting future generations of students.