DOrSU, German scientists discover new herbivorous weevils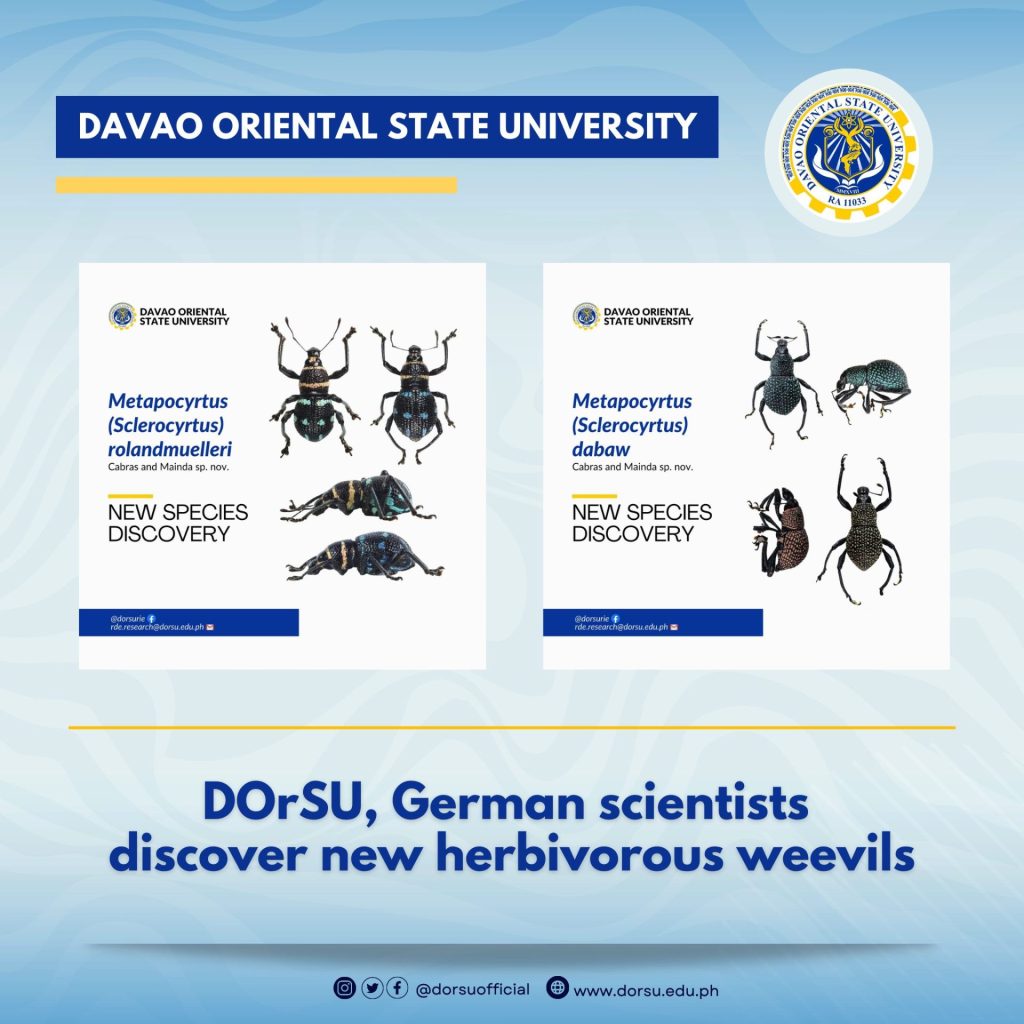 Dr. Analyn A. Cabras from the Terrestrial Invertebrate Research Laboratory of Davao Oriental State University (DOrSU) and Mr. Tobias Mainda from Greifswald, Germany, described two new species of weevils belonging to the genus 𝘔𝘦𝘵𝘢𝘱𝘰𝘤𝘺𝘳𝘵𝘶𝘴 from the islands of Homonhon and Davao in the Philippines.
The newly described species, 𝘔𝘦𝘵𝘢𝘱𝘰𝘤𝘺𝘳𝘵𝘶𝘴 (𝘚𝘤𝘭𝘦𝘳𝘰𝘤𝘺𝘳𝘵𝘶𝘴) 𝘳𝘰𝘭𝘢𝘯𝘥𝘮𝘶𝘦𝘭𝘭𝘦𝘳𝘪, and 𝘔𝘦𝘵𝘢𝘱𝘰𝘤𝘺𝘳𝘵𝘶𝘴 (𝘚𝘤𝘭𝘦𝘳𝘰𝘤𝘺𝘳𝘵𝘶𝘴) 𝘥𝘢𝘣𝘢𝘸 consist the 5th and 6th Sclerocyrtus weevils to be described from the Philippines.
The comprehensive study by Dr. Cabras and Mr. Mainda is a significant contribution to the field of Coleoptera research. The paper, titled "Two new species of the genus 𝘔𝘦𝘵𝘢𝘱𝘰𝘤𝘺𝘳𝘵𝘶𝘴 𝘏𝘦𝘭𝘭𝘦𝘳, 1912 from the islands of Homonhon and Mindanao: 𝘔𝘦𝘵𝘢𝘱𝘰𝘤𝘺𝘳𝘵𝘶𝘴 (𝘚𝘤𝘭𝘦𝘳𝘰𝘤𝘺𝘳𝘵𝘶𝘴) 𝘳𝘰𝘭𝘢𝘯𝘥𝘮𝘶𝘦𝘭𝘭𝘦𝘳𝘪 Cabras and Mainda sp. nov. and 𝘔𝘦𝘵𝘢𝘱𝘰𝘤𝘺𝘳𝘵𝘶𝘴 (𝘚𝘤𝘭𝘦𝘳𝘰𝘤𝘺𝘳𝘵𝘶𝘴) 𝘥𝘢𝘣𝘢𝘸 Cabras and Mainda sp. nov.," was published in an international Scopus-indexed journal, Zootaxa.
The first new species, 𝘔𝘦𝘵𝘢𝘱𝘰𝘤𝘺𝘳𝘵𝘶𝘴 (𝘚𝘤𝘭𝘦𝘳𝘰𝘤𝘺𝘳𝘵𝘶𝘴) 𝘳𝘰𝘭𝘢𝘯𝘥𝘮𝘶𝘦𝘭𝘭𝘦𝘳𝘪, is named in honor of the late Swiss entomologist Roland Mueller (1936-2016), whose invaluable contributions to the study of dragonflies and damselflies in the Philippines have left a lasting impact on the scientific community. This new discovery highlights Mueller's passion for exploring the country's diverse ecosystems, which ultimately led to the identification of a significant number of new species, including the holotypes of Metapocyrtus (Sclerocyrtus) Roland Mueller from Homonhon Island in May 1988.
The second species, 𝘔𝘦𝘵𝘢𝘱𝘰𝘤𝘺𝘳𝘵𝘶𝘴 (𝘚𝘤𝘭𝘦𝘳𝘰𝘤𝘺𝘳𝘵𝘶𝘴) 𝘥𝘢𝘣𝘢𝘸, is named after its type locality in the Davao Region. The term "Dabaw" is a toponym, referring to the local name for Davao. The specimens of this new species were found in Maragusan, Davao de Oro, and Caraga, Davao Oriental, adding to the ever-growing list of undiscovered species in the region.
One of the notable findings from the study is the proposal to transfer a species from the subgenus 𝘈𝘳𝘵𝘢𝘱𝘰𝘤𝘺𝘳𝘵𝘶𝘴 𝘏𝘦𝘭𝘭𝘦𝘳, 1912, to 𝘚𝘤𝘭𝘦𝘳𝘰𝘤𝘺𝘳𝘵𝘶𝘴 𝘏𝘦𝘭𝘭𝘦𝘳, 1912. This taxonomic revision involves 𝘔𝘦𝘵𝘢𝘱𝘰𝘤𝘺𝘳𝘵𝘶𝘴 (𝘚𝘤𝘭𝘦𝘳𝘰𝘤𝘺𝘳𝘵𝘶𝘴) 𝘭𝘢𝘵𝘪𝘯𝘢𝘴𝘶𝘴 𝘏𝘦𝘭𝘭𝘦𝘳, 1925, further contributing to the understanding of the evolutionary relationships within this group of beetles.
The discovery of these two new 𝘔𝘦𝘵𝘢𝘱𝘰𝘤𝘺𝘳𝘵𝘶𝘴 species draws attention to the more significant ecological problems the Philippines is currently confronting. The rapid rate of environmental degradation necessitates more awareness and action to safeguard these less-studied Coleoptera faunas. (DOrSU PIO)