"Like a stem cell, adapt and take on diverse roles": President Ponce at New Hires' Onboarding.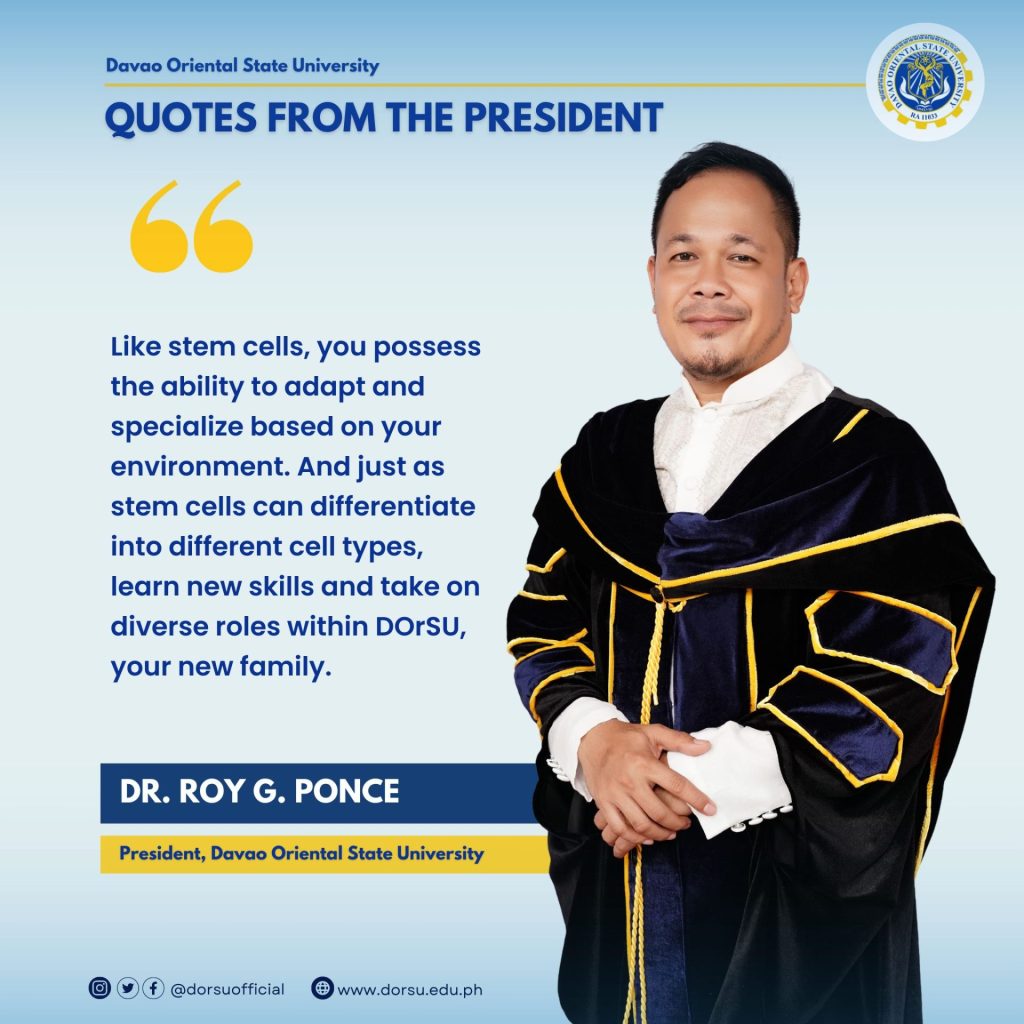 During his speech at the newly-hired faculty and staff's Onboarding today, July 10, DOrSU President Roy G. Ponce emphasized the remarkable abilities of the newly-hired faculty and staff, drawing a compelling parallel between their potential and that of stem cells. The President's speech focused on adaptability, specialization, and the importance of personal growth within the university's supportive environment.
Addressing the room filled with eager faces, the President commenced by acknowledging the inherent potential of the faculty and staff members to adapt and specialize in their new environment, just like stem cells do. "Like stem cells, you possess the remarkable ability to adapt and specialize based on your environment," the President remarked. "Within DOrSU, your new family, you will have the opportunity to differentiate, learn new skills, and take on diverse roles."
The President urged the attendees to plan their career trajectories meticulously, encouraging them to set ambitious goals and pursue professional development opportunities that align with their interests and aspirations. "Plan your career trajectory," the President stressed, emphasizing the significance of having a clear vision and working towards it.
Highlighting the importance of fostering a supportive community, the President urged the new members to treat DOrSU as their family. "Treat DOrSU as your family," the President reiterated. "By supporting and collaborating with one another, we can achieve great things and create an environment conducive to personal and professional growth."
Emphasizing the reputation and standing of the university, the President urged the faculty and staff to be mindful of their actions and their impact on the university's image. "Protect the reputation of our university," the President emphasized, underscoring the importance of upholding ethical standards, professionalism, and integrity in all endeavors.
The President also highlighted the importance of maintaining focus on regular tasks and responsibilities while simultaneously encouraging the publication of research and articles. "Do your regular tasks," the President advised, emphasizing the need for efficiency and commitment to core duties. "At the same time, publish your research and articles, as it will contribute to your growth and further enhance the university's academic standing."
In closing, the President expressed optimism about the future of the university and the collective achievements that could be accomplished by embracing adaptability, specialization, and continuous growth. The President's speech left the audience inspired and motivated to embark on their journeys at the university library, ready to contribute to its academic excellence and foster a culture of learning.