DOrSU-led crop production project in Davao Oriental receives P1.57 million from DA NUPAP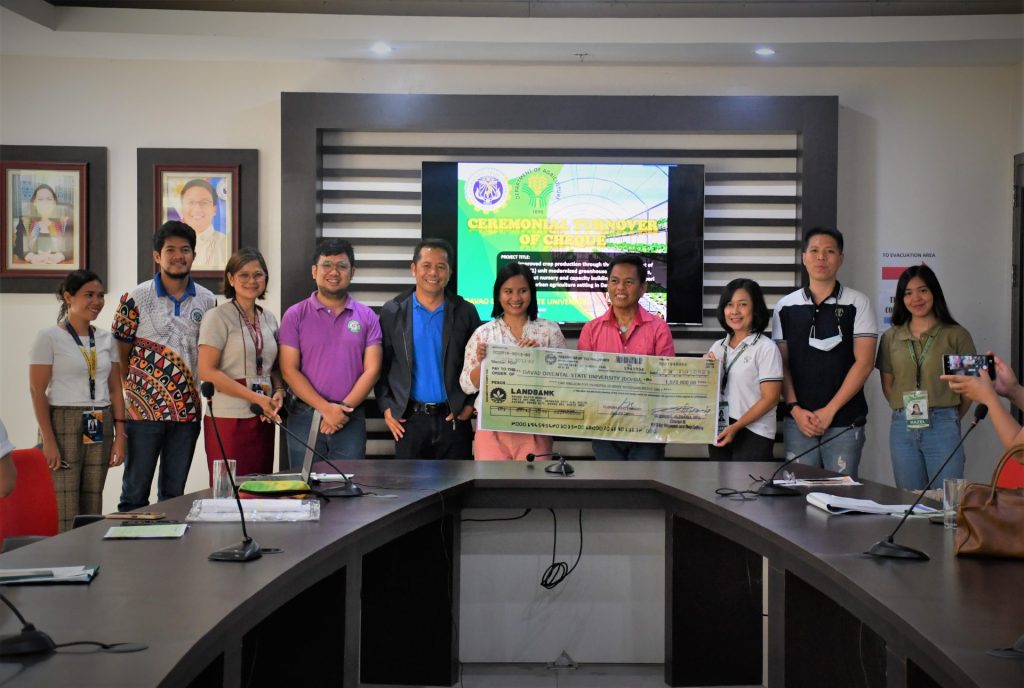 The Davao Oriental State University (DOrSU) has secured substantial funding of 1.57 million pesos from the Department of Agriculture (DA) – National Urban and Peri-Urban Agriculture Program (NUPAP) for the project titled "Improved Crop Production through the Establishment of One (1) Unit Modernized Greenhouse with Hydroponics, Grow-out Nursery and Capacity Building on the Urban-Peri Urban Agriculture Setting in Davao Oriental," led by esteemed DOrSU Professor Erna S. Macusi.
On May 9, 2023, a ceremonial turnover of check was held at the University Board Room, attended by representatives from the DA XI, headed by Field Operations Division Chief Marie Ann M. Constantino. The event was graced by the presence of the Davao Oriental Provincial Agriculturist, President Emeritus Dr. Edito B. Sumile, and the dedicated team of researchers who will be actively involved in the project. Dr. Sumile expressed his deep appreciation to the DA XI for their unwavering support to both the university and the province of Davao Oriental. He also took the opportunity to advocate for additional projects that could potentially receive funding.
Field Operations Division Chief Constantino voiced her optimism regarding the successful implementation of the project. Recognizing its significance, she expressed hope that the project would yield positive results, benefitting the local community and advancing urban and peri-urban agriculture in the province.
In a resolute message of commitment, DOrSU Vice President for Research, Innovation, and Extension, Dr. Misael B. Clapano, reaffirmed the university's unwavering support of the project. He emphasized the project's strong alignment with the vision and goals of the university, underlining its potential to create a far-reaching impact on the agricultural landscape of Davao Oriental.
With this generous funding from the Department of Agriculture and the expertise of DOrSU's team, the project aims to revolutionize crop production by establishing a state-of-the-art greenhouse equipped with hydroponics technology alongside a grow-out nursery. Additionally, capacity-building efforts will be undertaken to enhance farmers' knowledge and skills in the field of urban and peri-urban agriculture.
The project marks a significant milestone for DOrSU as it propels the university towards a regenerative and innovative future in agriculture. The university and its partners eagerly anticipate the successful implementation of the project, with high hopes for its positive impact on the local farming community and the broader agricultural sector in the province.