𝗗𝗢𝗦𝗧-𝗣𝗖𝗔𝗔𝗥𝗥𝗗 𝗠𝗼𝗻𝗶𝘁𝗼𝗿𝗶𝗻𝗴 𝗮𝗻𝗱 𝗘𝘃𝗮𝗹𝘂𝗮𝘁𝗶𝗼𝗻 𝗼𝗳 𝗗𝗢𝗿𝗦𝗨'𝘀 𝗜𝗣𝗧𝗕𝗠 𝗣𝗿𝗼𝗷𝗲𝗰𝘁𝘀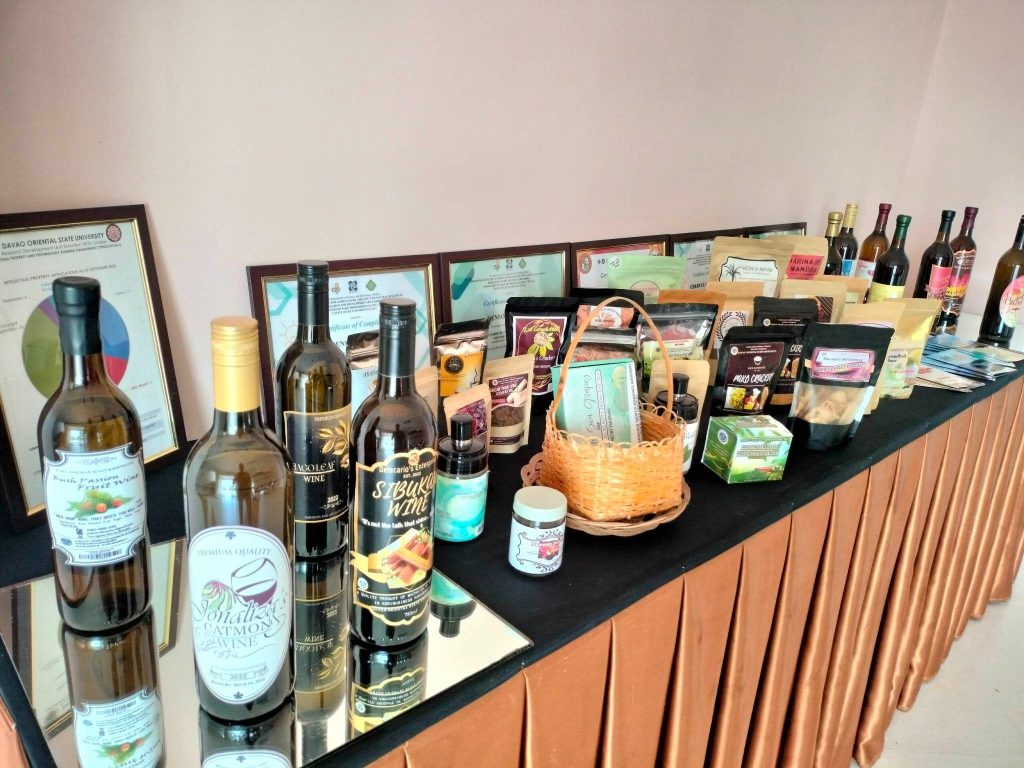 The Department of Science and Technology – Philippine Council for Agriculture, Aquatic and Natural Resources Research and Development (DOST-PCAARRD) visited Davao Oriental State University (DOrSU) to conduct a monitoring and evaluation of the Support to the University's Strategies in Technology Acceleration Initiatives by Nurturing Intellectual Property and Technology Business Management (SUSTAIN IPTBM) project this 8th of February 2023, Wednesday.
The SUSTAIN IPTBM is a two-year project funded by DOST-PCAARRD which aims to capacitate and strengthen the University's IPTBM and technology commercialization. IPTBMO Director and SUSTAIN IPTBM project leader, Mr. Venson B. Sarita, welcomed the DOST-PCAARRD representatives headed by Ms. Abigail F. Gueco, Senior Science Research Specialist; and Ms. Cherry Bundalian and Ms. Kariza Gemiano, Science Research Specialists II. With this, Mr. Sarita reported the Office's accomplishment of the project and accentuated his ways forward now that the tenure has ended. In response, Ms. Gueco provided her insights and recommendations and acknowledges the outputs of the University's SUSTAIN IPTBM project.
Moreover, the Regional Agri-Aqua Innovation System Enhancement: Uplifting the Grassroots-based Mindanaoans in AANR Initiatives through Regional Approach (RAISE UGMARA) team from USeP led by Engr. Filmann T. Simpao, along with Dr. Philip B. Despares and Mr. Chris John Mark Paica also did an annual review of the IPTBM RAISE project which is overseen by its Project Leader as well as DOrSU Vice-President for Academic Affairs, Dr. Cheryll L. Bautista.
Afterward, DOrSU Vice-President for Research, Innovation, and Extension (RIE), Dr. Misael B. Clapano, delivered a message of commendation to the project teams for their efforts and competence in delivering the target accomplishments. VP Clapano hopes to have more projects with DOST-PCARRD as he expresses his sincere gratitude to the Council.
The event ended through an exhibit of intellectual property and innovation assets of the University. In the evening, guests paid a courtesy meeting with the University President, Dr. Roy G. Ponce.