DOrSU responds SDG challenges, marks 2nd IBC, URDE-CAIR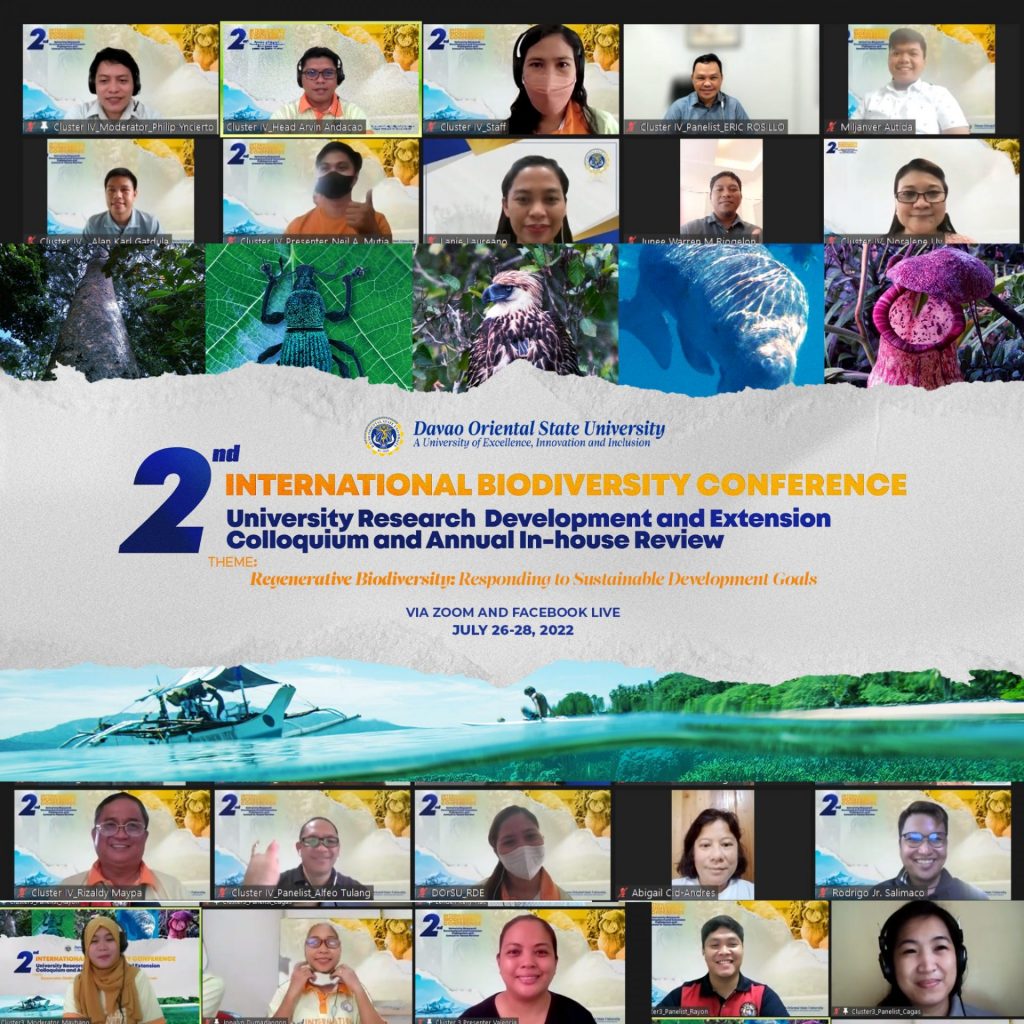 To address the challenges posed by the Sustainable Development Goals (SDGs), the Davao Oriental State University held its second International Biodiversity Conference (IBC) and University Research Development and Extension Colloquium and Annual In-house Review (URDE-CAIR) from July 26 to 28, 2022.
On the first day, six invited plenary speakers provided pertinent discussions on biodiversity and the emerging fields that either support or endanger it in response to Sustainable Development Goals for Regenerative Biodiversity.
DOrSU President Dr. Roy G. Ponce shared in his presentation, "Beyond Sustainability: Positioning Regenerative Futures in a Philippines State University," that Regenerative Futures is a theoretical and applied model to rethink and redesign strategies for human communities, including the future generations, to thrive in a connected and finite natural system.
Additionally, he acknowledged DOrSU's responsibility for significantly contributing to local activities supporting global regenerative goals. He said that the university's four functions are instruction, research, extension, and production.
Moreover, Dr. Annabelle P. Villalobos, Consultant and Scientist at Johnson & Johnson Biopharmaceuticals, emphasized in her presentation, "Biodiversity and Biochemical Research with People in Mind," the importance of keeping research on people and the benefits it provides, particularly for the ill.
On the other hand, Dr. Marshaley J. Baquiano, a social scientist from the University of Guam in the United States, discussed "Psychology: Its Contribution to Regenerative Biodiversity and Attaining the Sustainable Development Goals," in which she emphasized that people's decision-making significantly influences their actions toward the environment and generally the attainment of Sustainable Development Goals.
Dr. Yong-Chao Su from Kaohsiung Medical University in Taiwan, Dr. Dzintra Ilisko from Daugavpils University, and Dr. Nicole Richoux from Rhodes University in South Africa made up the final three plenary speakers. They all advocate biodiversity protection since it is a component of the natural world and a means of preserving sustainable human development.
Panelists from various institutions were also invited to help direct the research in the areas of Social Sciences, Education and Policy Development, Gender Studies (Cluster 1), Regenerative Science: Natural Science, Food Security, Environmental Integrity, and Biodiversity (Cluster 2), Entrepreneurship, Business, Cooperative System, Hospitality, Tourism and Health Services (Cluster 3), Engineering, Climate Change Adaptation, and Disaster Risk Reduction, Information System/Technology, and Other Industrial Technology (Cluster 4), Extension Highlights and Policy Briefs (Cluster 5), and Posters (Cluster 6).
This year is DOrSU's second time hosting IBC and URDE-CAIR. It hosted the same event last November 12–13, 2019.