DOrSU President to meet with the Pro Vice Chancellor of an Indian University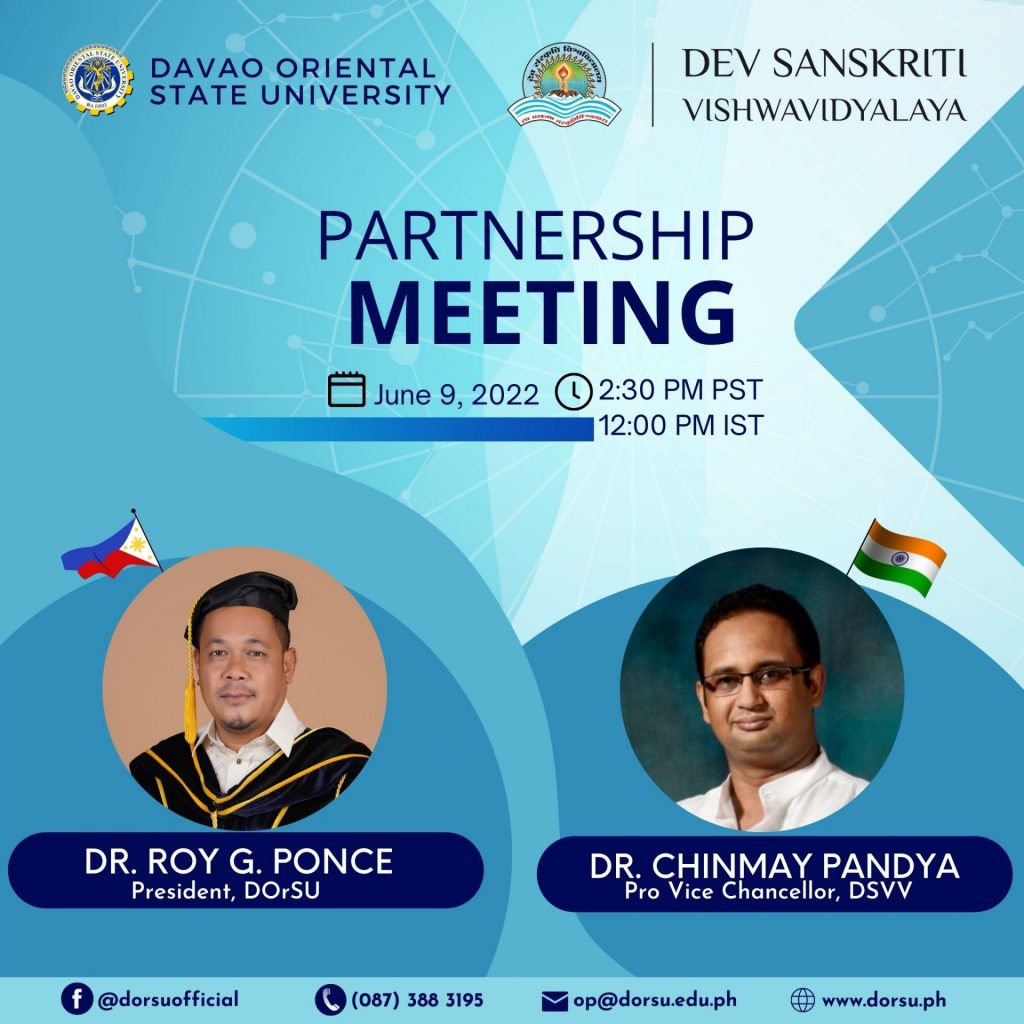 DOrSU President Roy G. Ponce will meet with Dr. Chinmay Pandya, Pro Vice Chancellor of Dev Sanskriti Vishwavidyalaya University (DSVV), a non-profit Indian university located in Haridwar, Uttarakhand, Northern India, tomorrow, June 9, 2022.
Dr. Chinmay Pandya is grandson of one of the greatest scholars, seers, philosophers of recent times in India – Pt. Shriram Sharma Acharya (1911-1990), who was the founder of All World Gayatri Pariwar fraternity, which has 100 million members and thousands of global centers for social reform.
He completed his medical training in India before moving to the United Kingdom to join the Royal College of Psychiatrists (MRCPsych). He worked his way up the British National Health Service's ranks in London, finally becoming the Associate Specialist in Older People Services at the West London Mental Health Trust.
Dr. Pandya plays a multiple roles at his university and abroad. He is the Editor of Dev Sanskriti, an international interdisciplinary journal that covers a wide spectrum of Indian intellectual interests including Vedic philosophy, culture, psychology, communication, education, Ayurveda, Indian and Eastern studies, and religious pedagogies.
At DSVV, he is in charge of ethos, academic rigor, and policy implementation. He is a member of the National Council for Teachers' Education's (NCTE) Syllabus Restructuring Committee, and is one of five global institutional leaders appointed to the Global Covenant of Religions, with representatives from the University of Cambridge and the University of Virginia (GCR).
In top to being the chairman of Asia's first and only Center for Baltic Culture and Studies and South Asian Institute of Peace and Reconciliation, he is the Founder Patron of Rishihood University, India.
He has presented papers, addressed symposia and lectured at the United Nations (UNO) Headquarters in Vienna, Universities of Cambridge, Latvia and Chicago; Lambeth Palace, Royal Methodist Hall, the Indian Institutes of Technology (IIT); the Indian Institutes of Management (IIM); the Indian Medical Association; the Indian Military Academy (IMA), Bhabha Atomic Research Centre (BARC), Nuclear Fuels Corporation (NFC), Tata Institute of Fundamental Research (TIFR) and the Defence Research and Development Organization (DRDO) of India.
Dr. Pandya has also represented India at the UNESCO Inter-Governmental Meeting on Intangible Cultural Heritage, sat on the Board of Trustees of the India Development Foundation (IDF), and is a member of the prestigious National Cultural Fund (NCF) of India's Ministry of Culture.