𝗡𝗲𝘄 𝘄𝗲𝗲𝘃𝗶𝗹 𝘀𝗽𝗲𝗰𝗶𝗲𝘀 𝗻𝗮𝗺𝗲𝗱 𝗮𝗳𝘁𝗲𝗿 𝗗𝗢𝗿𝗦𝗨 𝗣𝗿𝗲𝘀𝗶𝗱𝗲𝗻𝘁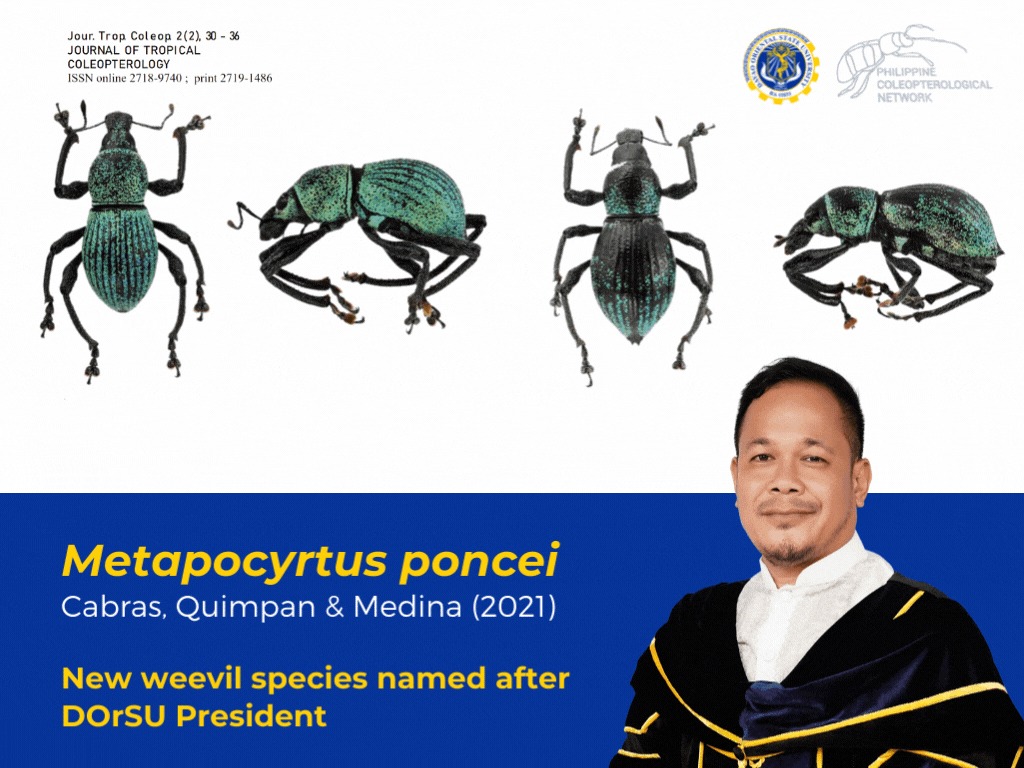 CITY OF MATI – 𝘔𝘦𝘵𝘢𝘱𝘰𝘤𝘺𝘳𝘵𝘶𝘴 𝘱𝘰𝘯𝘤𝘦𝘪 is a new weevil species published in the Journal of Tropical Coleopterology 2(2) December 2021, which is named after Dr. Roy G. Ponce, President of the Davao Oriental State University (DOrSU) in the Philippines, recognizing his contributions in advancing biodiversity research in Davao Oriental.
Beetle taxonomists Dr. Analyn A. Cabras, Ms. Hannah P. Quimpan, and Dr. Milton Norman Medina from the Coleoptera Research Center of the University of Mindanao and DOrSU Graduate School discovered the said species in the low elevation open secondary forest of San Isidro, Davao Oriental. The specimens were collected 500 meters away from a riparian ecosystem with semi-dense vegetation composed of shrubs and grasses.
The beetle resembles the elytral markings of 𝘔𝘦𝘵𝘢𝘱𝘰𝘤𝘺𝘳𝘵𝘶𝘴 (𝘖𝘳𝘵𝘩𝘰𝘤𝘺𝘳𝘵𝘶𝘴) 𝘩𝘪𝘳𝘢𝘬𝘶𝘪 Cabras, Medina & Bollino, 2021, and 𝘔𝘦𝘵𝘢𝘱𝘰𝘤𝘺𝘳𝘵𝘶𝘴 s.s. 𝘱𝘴𝘦𝘶𝘥𝘢𝘩𝘪𝘳𝘢𝘬𝘶𝘪 Cabras & Medina, 2021, both discovered from Bukidnon, Mindanao. However, it has a unique pronotum fully covered in scales, elytra with longitudinal scaly stripes, full scales in the lateral sides, and with rounded apex. The female was also observed to have a short acute black spine at the apex of each elytron.
"𝙎𝙤 𝙛𝙖𝙧, 𝙈𝙚𝙩𝙖𝙥𝙤𝙘𝙮𝙧𝙩𝙪𝙨 𝙥𝙤𝙣𝙘𝙚𝙞 𝙨𝙥. 𝙣𝙤𝙫. 𝙨𝙚𝙚𝙢𝙨 𝙩𝙤 𝙗𝙚 𝙖 𝙧𝙖𝙧𝙚 𝙨𝙥𝙚𝙘𝙞𝙚𝙨 𝙖𝙣𝙙 𝙤𝙣𝙡𝙮 𝙧𝙚𝙘𝙤𝙧𝙙𝙚𝙙 𝙞𝙣 𝘿𝙖𝙫𝙖𝙤 𝙊𝙧𝙞𝙚𝙣𝙩𝙖𝙡," the researchers remarked. They also encouraged the conduct of more fieldwork in the province to properly assess the species distribution.
Davao Oriental is home to the Mt. Hamiguitan Range Wildlife Sanctuary, a UNESCO World Heritage Site, and the Pujada, Mayo, and Balete Bays declared as Most Beautiful Bays in the World. Beetle experts believe that novel species are yet to be discovered with the province's natural frontiers.
"𝘿𝙊𝙧𝙎𝙐 𝙞𝙨 𝙥𝙖𝙫𝙞𝙣𝙜 𝙞𝙩𝙨 𝙨𝙩𝙧𝙖𝙩𝙚𝙜𝙞𝙘 𝙧𝙤𝙖𝙙𝙢𝙖𝙥 𝙩𝙤 𝙗𝙚𝙘𝙤𝙢𝙞𝙣𝙜 𝙖 𝙧𝙚𝙜𝙚𝙣𝙚𝙧𝙖𝙩𝙞𝙫𝙚 𝙪𝙣𝙞𝙫𝙚𝙧𝙨𝙞𝙩𝙮 𝙞𝙣 𝙩𝙝𝙚 𝙋𝙝𝙞𝙡𝙞𝙥𝙥𝙞𝙣𝙚𝙨. 𝙏𝙝𝙞𝙨 𝙞𝙨 𝙤𝙪𝙧 𝙝𝙪𝙢𝙗𝙡𝙚 𝙬𝙖𝙮 𝙤𝙛 𝙜𝙞𝙫𝙞𝙣𝙜 𝙗𝙖𝙘𝙠 𝙖𝙣𝙙 𝙥𝙧𝙤𝙩𝙚𝙘𝙩𝙞𝙣𝙜 𝙩𝙝𝙚 𝙚𝙣𝙫𝙞𝙧𝙤𝙣𝙢𝙚𝙣𝙩, 𝙚𝙨𝙥𝙚𝙘𝙞𝙖𝙡𝙡𝙮 𝙞𝙩𝙨 𝙧𝙞𝙘𝙝 𝙗𝙞𝙤𝙙𝙞𝙫𝙚𝙧𝙨𝙞𝙩𝙮," said President Ponce. (JP Villegas, Board Secretary)