"𝙇𝙚𝙖𝙧𝙣𝙞𝙣𝙜 𝙩𝙝𝙚 𝘽𝙖𝙨𝙞𝙘𝙨 𝙤𝙛 𝘼𝙪𝙩𝙤𝙢𝙤𝙩𝙞𝙫𝙚 𝘼𝙞𝙧𝙘𝙤𝙣𝙙𝙞𝙩𝙞𝙤𝙣𝙞𝙣𝙜 𝙎𝙮𝙨𝙩𝙚𝙢," authored by 𝗠𝗿. 𝗩𝗲𝗻𝘀𝗼𝗻 𝗕. 𝗦𝗮𝗿𝗶𝘁𝗮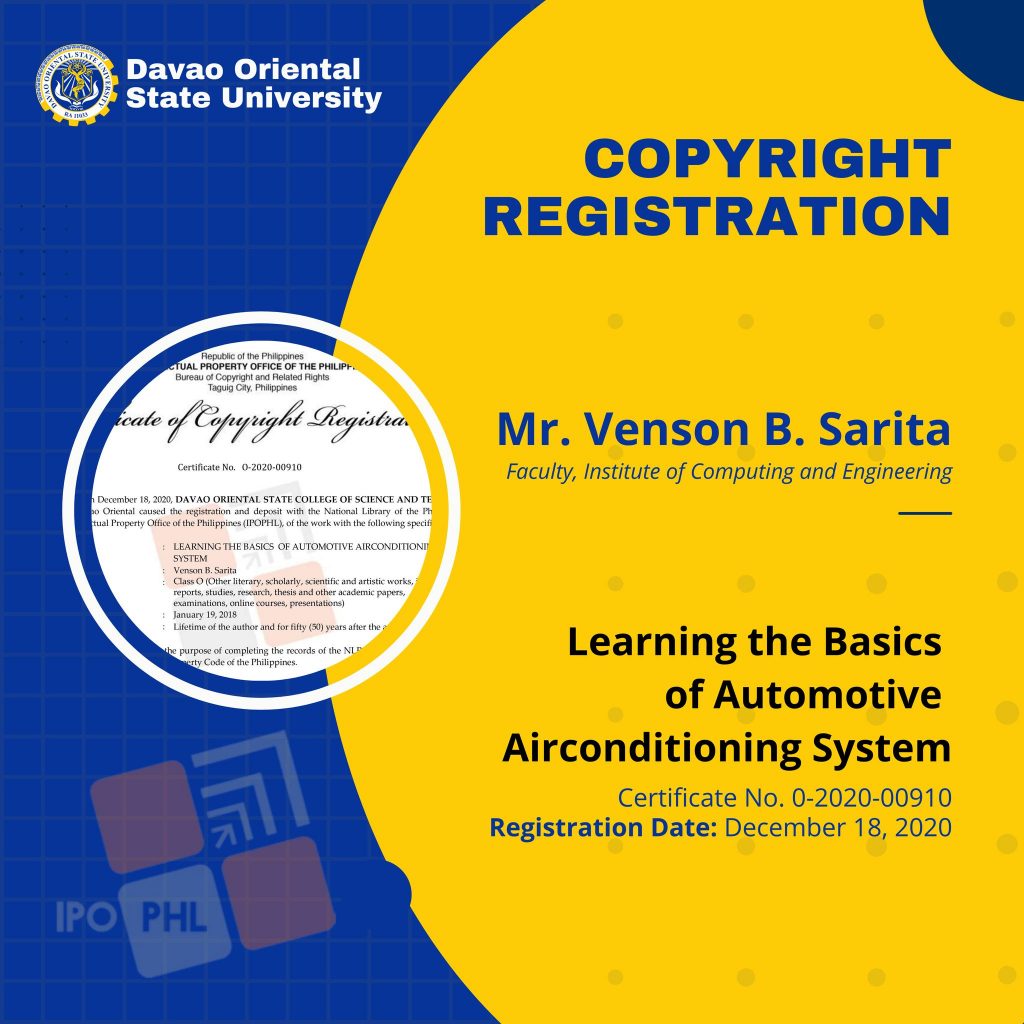 A learning module titled, "𝙇𝙚𝙖𝙧𝙣𝙞𝙣𝙜 𝙩𝙝𝙚 𝘽𝙖𝙨𝙞𝙘𝙨 𝙤𝙛 𝘼𝙪𝙩𝙤𝙢𝙤𝙩𝙞𝙫𝙚 𝘼𝙞𝙧𝙘𝙤𝙣𝙙𝙞𝙩𝙞𝙤𝙣𝙞𝙣𝙜 𝙎𝙮𝙨𝙩𝙚𝙢," authored by 𝗠𝗿. 𝗩𝗲𝗻𝘀𝗼𝗻 𝗕. 𝗦𝗮𝗿𝗶𝘁𝗮 was issued a Certificate of Copyright Registration No. 0-2020-00910.
The Davao Oriental State College of Science and Technology (now known as Davao Oriental State University) caused the said material's registration and deposit with the National Library of the Philippines (NLP), through the Intellectual Property Office of the Philippines (IPOPHL).
With the Copyright, the ownership is granted and protected within the lifetime of Mr. Sarita (author) and for fifty (50) years after his death per the stipulations of Republic Act No. 8293, or the Intellectual Property Code of the Philippines.