𝐃𝐎𝐫𝐒𝐔-𝐑𝐈𝐂 𝐗𝐈 𝐑𝐞𝐜𝐞𝐢𝐯𝐞𝐬 𝐏𝐫𝐞𝐬𝐭𝐢𝐠𝐢𝐨𝐮𝐬 𝐑𝐞𝐠𝐢𝐨𝐧𝐚𝐥 𝐀𝐰𝐚𝐫𝐝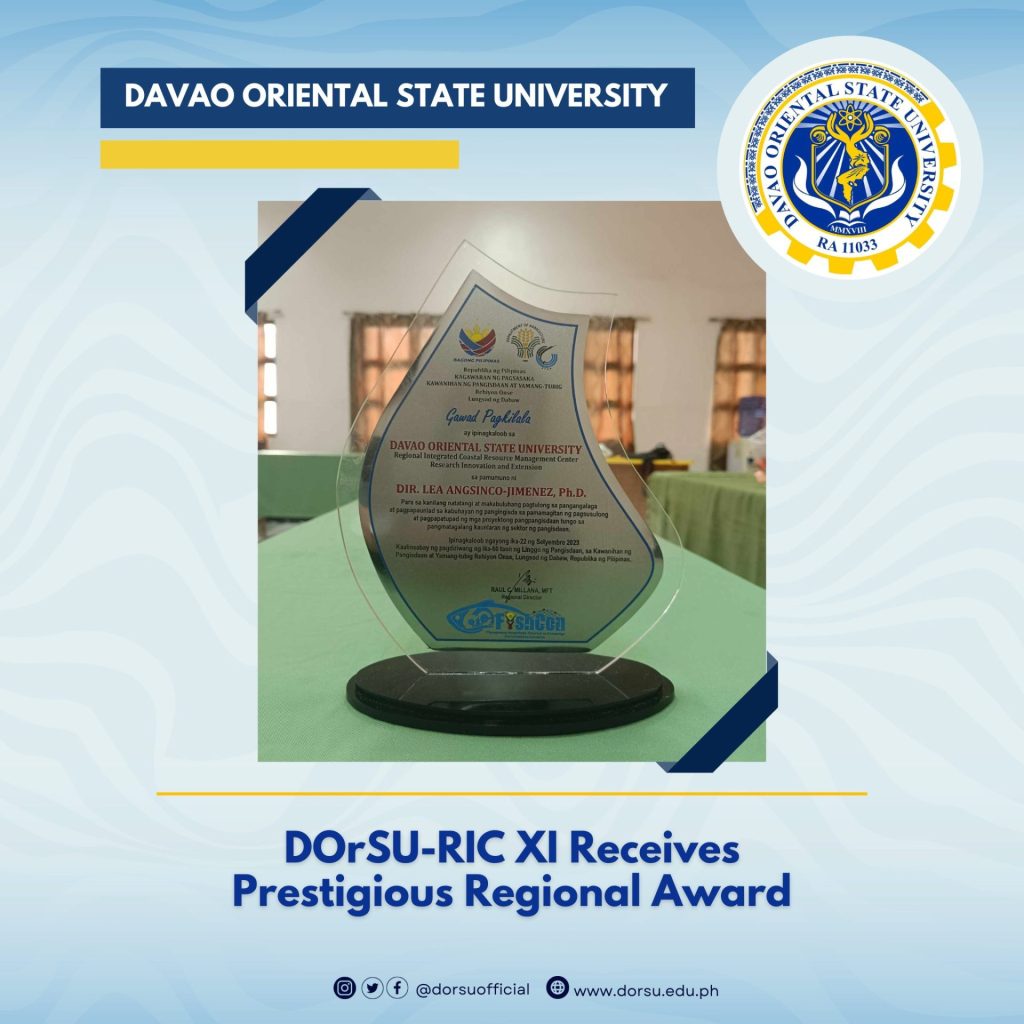 DAVAO CITY – The Davao Oriental State University – Regional Integrated Coastal Resource Management Center (RIC XI) is basking in the glory of a significant achievement, as it proudly announces that its leader, Dr. Lea A. Jimenez, has clinched the highly coveted "Gawad Pagkilala sa mga Kabalikat ng Pangisdaan" (Regional Level) award. This prestigious accolade was bestowed upon Dr. Jimenez and her dedicated team by the Department of Agriculture – Bureau of Fisheries and Aquatic Resources (DA-BFAR).
The award presentation took place during the 60th Fish Conservation (FishCon) Week, which reached its climax on September 22, 2023, in Davao City. The recognition proves Davao Oriental State University's remarkable contributions to preserving and developing the Philippines' vital fisheries sector.
Dr. Lea A. Jimenez, who leads the DOrSU-RIC XI, has been at the forefront of sustainable coastal resource management efforts. Under her guidance, the center has significantly promoted the conservation of aquatic resources and ensured the welfare of local fishing communities.
The "Gawad Pagkilala sa mga Kabalikat ng Pangisdaan" award acknowledges Dr. Jimenez's outstanding leadership and her team's collective dedication and hard work. Their unwavering commitment to advancing coastal resource management has led to this well-deserved recognition.
In response to the news, Dr. Jimenez expressed her gratitude for the honor and emphasized the importance of collaborative efforts in safeguarding the country's fisheries. She remarked, "This award realizes the dedication and passion of our team at DOrSU-RIC XI. It highlights the significance of our shared mission to protect our marine resources and uplift the lives of our fisherfolk."
As the DOrSU-RIC XI and Dr. Lea A. Jimenez continue to make strides in fisheries conservation and coastal resource management, their dedication is a shining example of excellence in the region. Their commitment to preserving the Philippines' marine ecosystems and supporting the livelihoods of fishing communities is deserving of this prestigious regional recognition.
The Davao Oriental State University President, Dr. Roy G. Ponce, congratulates the entire RIC XI team for continuously supporting the administration regarding environmental conservation. As DOrSU President Ponce always says, "Do something good today so the future generations will thank you in the future." (DOrSU PIO)