𝐍𝐞𝐰𝐥𝐲-𝐞𝐥𝐞𝐜𝐭𝐞𝐝 𝐅𝐚𝐜𝐮𝐥𝐭𝐲 𝐔𝐧𝐢𝐨𝐧 𝐎𝐟𝐟𝐢𝐜𝐞𝐫𝐬 𝐓𝐚𝐤𝐞 𝐎𝐚𝐭𝐡 𝐨𝐟 𝐎𝐟𝐟𝐢𝐜𝐞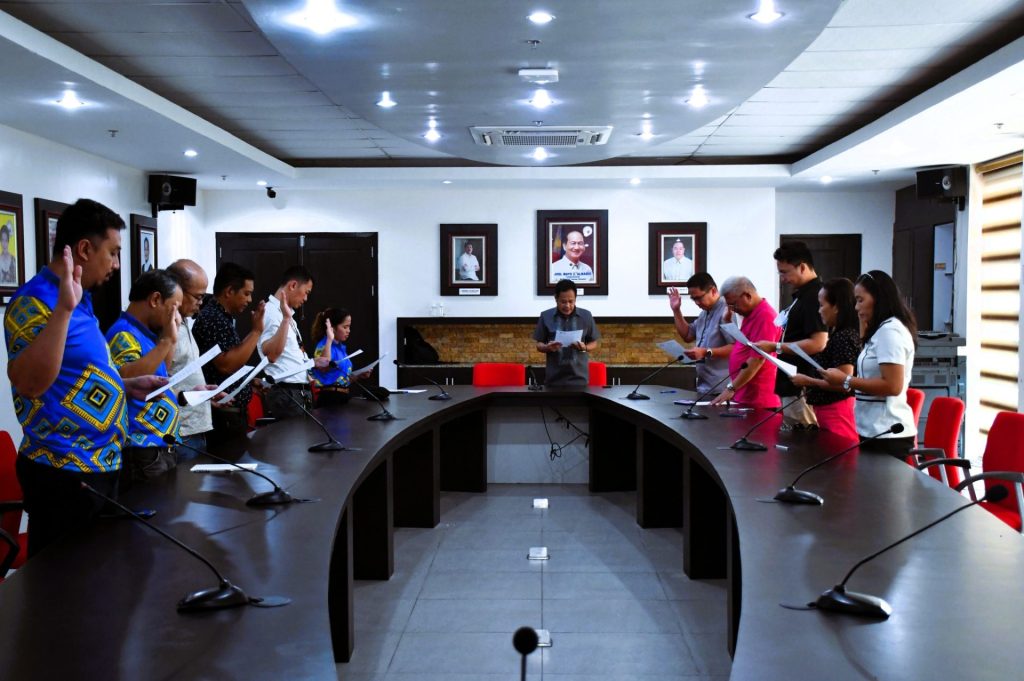 The newly-elected Faculty Union (FU) officers took their oath of office today, September 25th, in the University Boardroom.
As the presiding officer, DOrSU President Dr. Roy G. Ponce emphasized the importance of collaboration and unity to achieve regenerative futures. He expressed his excitement about the new set of officers at the university and further stressed the significance of agreement in addressing faculty matters.
The newly-elected FU President, Dr. Bryan M. Susada, positively accepted his position and committed to representing the voices of the faculty to the DOrSU Board of Regents.
"Please feel free to offer help and corrections if necessary. I am open to that," President Susada said, addressing the other officers.
The FU officers include Professor Roland A. Dalagan as Vice President, Dr. Rodrigo A. Salimaco Jr. as Secretary, and Engr. Jean C. Eballe as Treasurer, Ms. Lilibeth G. Deligero as Auditor, Cindy A. Lasco as Union Affairs Officer, and Mr. Renante M. Andrada as Business Manager.
The FU Legislative Board will consist of Dr. Gorjel E. Llanita, Prof. Danilo O. Jacobe, Prof. Edison Roi D. Macusi, and Dr. Asterio G. Olandria. (DOrSU PIO)