DOrSU, LGU-San Isidro sign MoA for SAFE Program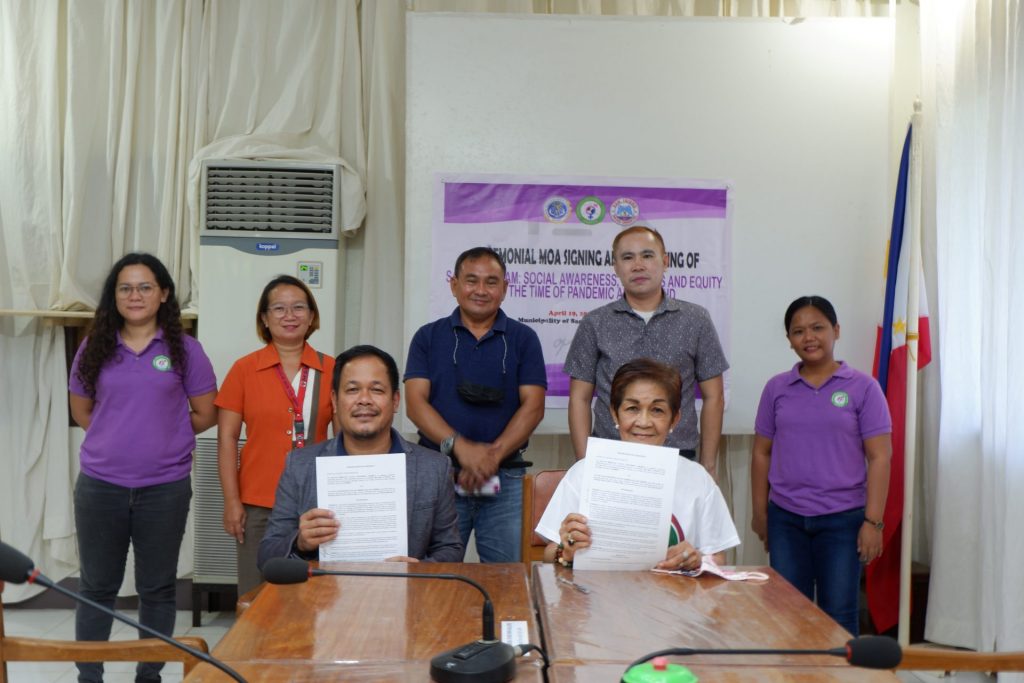 President Roy G. Ponce signed a Memorandum of Agreement with the Local Government Unit of the Municipality of San Isidro, represented by Municipal Mayor Justina MB Yu, for the SAFE Program: Social Awareness, Fairness, and Equity at the Time of Pandemic and Beyond today, April 19,2022 at the Conference Room, Municipal Office of San Isidro, Davao Oriental.
According to the MoA, Davao Oriental State University will be responsible for providing a fund for the program's use of training and operating expenses, as well as technical expertise and assistance on the research component, intervention program implementation, and advocacy development; coordinating with the LGU San Isidro to plan, implement, and evaluate the program; facilitating intervention programs/training and seminars and technology transfer; developing information and social education campaign (IEC) materials relevant to the target community and spearheading the third part in disseminating the same.
On the other hand, the LGU – San Isidro will be in charge of ensuring that all residents of the Municipality participate fully in the DORSU and LGU-SAN ISIDRO's SAFE program activities; fa cilitating the implementation of the above project initiatives to strengthen the linkages in close collaboration with the Gender and Development Center (GADC) in terms of program, project, and activity implementation, as well as in terms of providing and conducting monitoring and evaluation mechanisms for all implemented programs, projects, and activities.
President Ponce expressed his commitment to the project especially that it is the first time in the province.
President Ponce emphasized that everyone must be safeguarded from various forms of domestic and sexual abuse.
"Human well being cannot materialize in an unsafe environment." President Ponce added.
In response to President Ponce's statement, Municipal Mayor Yu stated that she needed the University's help to carry out her plan to protect the youth from abuses.
She went on to say that one victim is just as significant as many victims.
This program was initiated by Gender and Development Office of the University which accords to the University's strong commitment to the fulfillment of the Global Sustainable Development Goals, to wit, Goal 3: Good Health and Well-Being, Goal 5: Gender Equality, Goal 10: Reduced Inequalities, Goal 16: Peace, Justice and Strong Institutions, and Goal 17: Partnership for the Goals.