"𝘼 𝙈𝙪𝙡𝙩𝙞-𝙋𝙪𝙧𝙥𝙤𝙨𝙚 𝙃𝙮𝙙𝙧𝙖𝙪𝙡𝙞𝙘 𝙀𝙣𝙜𝙞𝙣𝙚 𝘾𝙮𝙡𝙞𝙣𝙙𝙚𝙧 𝙍𝙚𝙢𝙤𝙫𝙚𝙧," named under 𝗗𝗿. 𝗝𝗼𝗵𝗻 𝗠𝗮𝗿𝗸 𝗦. 𝗙𝗿𝗮𝗻𝗰𝗶𝘀𝗰𝗼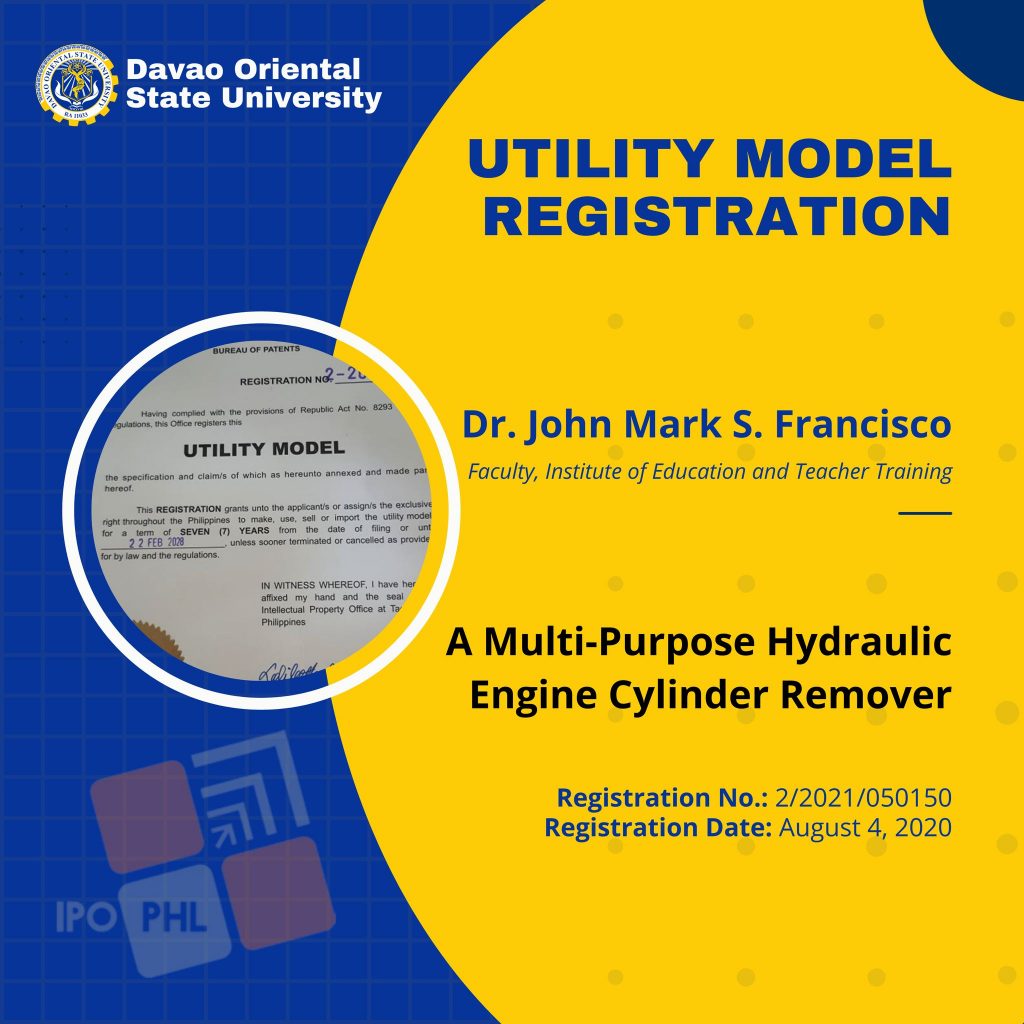 A Utility Model called, "𝘼 𝙈𝙪𝙡𝙩𝙞-𝙋𝙪𝙧𝙥𝙤𝙨𝙚 𝙃𝙮𝙙𝙧𝙖𝙪𝙡𝙞𝙘 𝙀𝙣𝙜𝙞𝙣𝙚 𝘾𝙮𝙡𝙞𝙣𝙙𝙚𝙧 𝙍𝙚𝙢𝙤𝙫𝙚𝙧," named under 𝗗𝗿. 𝗝𝗼𝗵𝗻 𝗠𝗮𝗿𝗸 𝗦. 𝗙𝗿𝗮𝗻𝗰𝗶𝘀𝗰𝗼 was issued a Utility Model Registration No. 2/2021/050150 by the Intellectual Property Office of the Philippines (IPOPHL).
The present utility model relates to a machine for separating metal parts or objects, specifically to a multi-purpose hydraulic engine cylinder remover having a hydraulic boom with a detachable base plate that could eject the engine cylinder in different shapes and sizes.
The registration grants unto Dr. Francisco the exclusive right throughout the Philippines to make, use, sell or import the utility model for a term of seven (7) years from the date of filing or until or until February 22, 2028