CHED brings Padyak to DavOr
The Commission on Higher Education (CHED) in partnership with the Davao Oriental State University (DOrSU) and the City of Mati Health Office, organized the Padyak Para sa Flexible Learning: Sama-samang Vaccination Program at the DOrSU Learning and Information Resource Center (LIRC), City of Mati, Davao Oriental last October 16, 2021.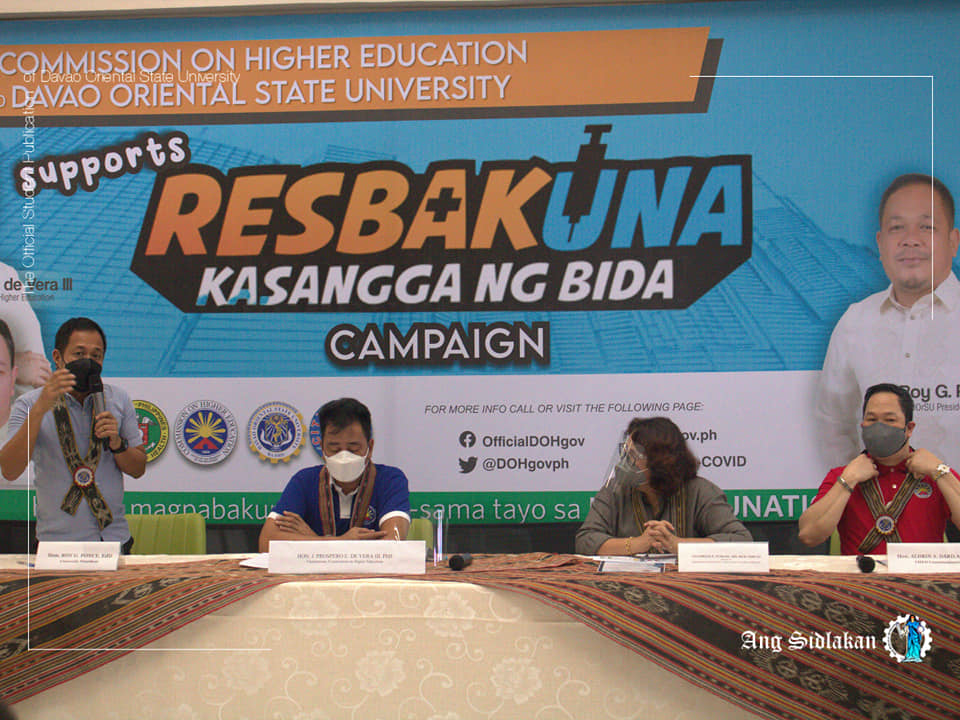 The activity vaccinated scholars from the Mati Polytechnic College (MPC), the Mati Doctors College (MDC), and the Davao Oriental State University (DOrSU).
Present in the event were CHED Chairman Dr. J. Prospero E. De Vera III, CHED Commissioner Dr. Aldrin A. Darilag, CHED Region XI Director Dr. Maricar R. Casquejo, City of Mati Incident Management Team Commander Dr. Ben Hur G. Catbagan Jr., Davao CHD Director Dr. Annabelle P. Yumang, and SUC President III Dr. Roy G. Ponce.
In an interview, Chair De Vera highlighted the efforts done by the Commission amidst the pandemic such as the implementation of flexible learning methods and the safe resumption of some programs in the country.
"We ask our students to become ambassadors of vaccination to everyone, so that we can slowly transition to the opening of schools for limited face-to-face classes" De Vera added.
Meanwhile, Commissioner Darilag underscored the importance of creating a safe environment for students should SUCs reopen. He also led the ceremonial vaccination of scholars since he is also a registered nurse.
In his message, Dr. Ponce expressed his gratitude to CHED for the unwavering support in the conduct of flexible learning methods amidst the pandemic. He also stressed that as an institution of higher academic learning, DOrSU is steadfast in helping the national government and the community in whatever way possible.
The vaccination program was conducted in support of the national government's RESBAKUNA Kasangga ng Bida Campaign which aims to inoculate Filipinos to achieve herd immunity. CHED aims to visit more academic institutions in the country to promote the said program.